Solid Waste Division
Division Manager: Margo Gillaspy
RECYCLING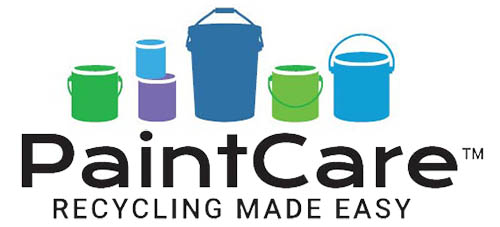 Washington State Welcomes Paint Recycling with PaintCare

Skagit households and businesses have a new place to put old paint with the debut of the PaintCare program. This new recycling program makes it safe and easy to recycle leftover paint stain, and varnish, free at over 149 locations across Washington. The PaintCare program collaborates with local government facilities and paint retailers near residential neighborhoods. These locations make it simple for households and businesses to find their nearest drop-off site by visiting PaintCare's online site locator. Most PaintCare drop-off locations accept both latex and oil-based architectural paint products, including paints, stains, and varnishes. Paint must be dropped off for recycling in original containers with its original manufacturer labels. Non-PaintCare products (those not accepted for recycling within the program) are still acceptable to bring to the Skagit County Household Hazardous Waste Facility for disposal.

Find out more about PaintCare, and locate drop-off locations near you by visiting the website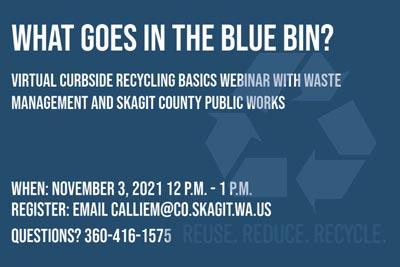 Bring your recycling questions and join us for a free lunchtime discussion about the most recent changes in curbside recycling, and newest recycling programs available to Skagit County residents [flyer].
Refuse

Reduce

Just say no to wasteful living:

Say no to disposable items

Say no to packaging

Sound Shredding & Recycling
For information about free confidential document paper shredding dates in your area contact Sound Shredding 360-733-7932


Reducing your consumption saves you money and our natural resources.

Look for products and packaging made from renewable resources

Close the loop: buy products made from post-consumer recycled material

Choose products that have fewer disposable parts

Use a reusable water bottle, travel mugs, shopping bags, lunch bags


Rot (Compost)

Reuse

Reuse is to use an item more than once. Conventional reuse is when something is used again for the same function. New-life reuse is when an item is used for a new function. By taking useful products and exchanging them, without reprocessing, reuse helps save time, money, energy and resources. What can you reuse today, before throwing it out or recycling it?

Recycle

Community Education Programs
Zero-Waste Schools:

Skagit County's Public Works Solid Waste Division Community Outreach Specialist provides a number of education programs to schools, including:

Classroom Visits: we'll visit your student's classroom to teach them about recycling, composting, and resource reduction. We offer a unit on decomposition, and a unit on waste reduction/recycling. Teachers can choose one or both. Intended for grades 4-6.

Waste-Free Lunch Program: we'll apply zero-waste principles to creating a waste-free lunch box for students from kindergarten to high school. Participation in this program can help your school attain a zero-waste cafeteria with a comprehensive compost and recycling system.

Waste Audits: we'll conduct an audit of one school's days waste and recycling to determine how much is being recycled and how much is being thrown away that could be recycled, and look for opportunities to reduce or prevent waste.

Tours: upon completion of the new Skagit County Transfer and Recycling Station in 2012, we'll offer tours and small group discussions for elementary through high school classrooms.


Master Composter/Recycler Program

Master Composter/Recycler Volunteer Training: we offer yearly free comprehensive training in recycling and composting in exchange for volunteer service. Find us on Facebook


For more information
Contact Callie Martin, Skagit County Public Works Solid Waste Division Community Outreach Specialist, (360) 416-1575, or calliem@co.skagit.wa.us.