Historical Museum
Located in La Conner
"Come to the top of the hill for a spectacular view of Skagit County history"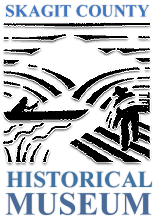 General Information about the Skagit Historical Museum
EXPLORE Skagit County's rich and rugged heritage by touring the SKAGIT LEGACY exhibit filled with scenes of early Skagit life from the mountains to the sea. From parlors to plows, Native American baskets to Shirley Temple dolls, the Museum galleries are overflowing with interesting and often unusual treasures of Skagit County's vibrant past. EXPERIENCE the uniqueness of life in Skagit County through adult education programs like "Skagit Topics."
This program features LOCAL HISTORIANS and guest speakers. Check the 'Calendar of Events' to see what is scheduled. School children LEARN about their local COMMUNITY and local HISTORY through the Historical Museum's Blast to the Past Program, which offers interesting tours, a Time Traveler's Guide and TimeTraveler Trunks filled with artifacts and activities for the classroom.

Skagit County Historical Museum Staff

Director: Jo Wolfe
Curator: Karen Summers
Archivist: Mari Densmore
Education & Outreach Coordinator: Katie Bunge
Facilities Manager: Warren Gravley
Custodian: Linda Reynolds-Gravley
Office Manager: Ann Maroney
Visitor Services Assistant: Beth Ensley

email: Museum@co.skagit.wa.us

Top

SKAGIT COUNTY HISTORICAL MUSEUM VISION
The Skagit County Historical Museum will serve as the preeminent source for the understanding and enjoyment of Skagit County's unique cultural history. In doing so, the Museum will foster community identity, understanding, and pride; offer a sense of belonging; and act as a forum for bringing individuals and communities together. The Museum will enjoy strong and diverse community support by representing the history of all Skagit County people and communities; responding to the changing needs of broad audiences; and exemplifying high ethical standards.
SKAGIT COUNTY HISTORICAL MUSEUM MISSION
The Skagit County Historical Museum actively engages the public in the understanding and enjoyment of Skagit County's unique cultural history. In pursuit of our mission, we:
Collect and preserve objects and information documenting our diverse history for purposes of public education and institutional needs.
Interpret our history through effective educational exhibits, programs, publications, and services.
Reflect the history of all Skagit County people and communities.
Seek community involvement and collaboration for achieving the greatest public benefit.
Serve the broadest possible audience.
Obtain resources for maintaining high-quality services and manage resources in accordance with sound business practices.
Achieve support from diverse communities in the form of memberships, funding, in-kind contributions, collection donations, attendance, volunteers, and endorsements.
Provide facilities and information access necessary for effective and efficient service.
Exemplify professionally accepted museum practices.
Serve the public in a respectful, fair, and efficient manner.
Promote a collaborative working environment based upon mutual respect, trust, and fairness.

Historical Society Board of Trustees

President: Sara Patton
Vice President: Dan Royal
Treasurer: Muriel Neely
Secretary: Merlene Buller

Members by Region

Anacortes:
Charles Eckardt
Mary Kirkwood

Burlington/Edison:
Chris Loving
Edie Edmundson

La Conner:
Don Elliott
Rosie Hulbert

Mount Vernon:
John Kamb, Jr
Muriel Neely

Sedro-Woolley/Upriver:
Deanna Ammons
Merlene Buller

At Large:
Sara Patton
Jeanne Youngquist
Karen Talbert
Dan Royal

Honorary Trustees:
Kim Rubenstein, President - Skagit County Pioneer Association
Ken Dahlstedt - Skagit County Commissioner Dist 2



Directions to the museum:
The Museum is easy to find. After entering La Conner on Morris Street, turn left on S. 2nd Street, go two blocks to the Methodist church. Turn left onto Benton Street. Continue for two blocks to S. 4th Street. Turn left and go one block to the Museum. There is plenty of free parking.


Top
Research Inquiries
Our library resources are for use on the premises, and research assistance is provided by appointment. Copies of historic photographs are available for a fee.
Collections
The Museum documents, preserves, and interprets over 200,000 County-related artifacts. Extensive collections of dolls, household items, quilts, clothing, Native American pieces, tools, and farm equipment are exhibited on a rotating basis to provide a variety of views into our county's past. Reference questions regarding collections are answered by appointment. The Museum also offers assistance to patrons who want to know how to store and care for their personal heirlooms and photographs. The Museum's goal is to "Preserve Skagit history for all people, for all time."
Museum Store
"A great little store where everything is so affordable!"

Distinctive Gifts & Toys
Historical Books
Unique Greeting Cards
Elegant Accessories

The Museum Store offers an assortment of history-oriented merchandise. Books on local and regional history, including an in-depth series of Skagit County Historical Society publications, old-time toys and Native American crafts provide distinctive and reasonably priced gift ideas. Society Members receive 10% discount!
Download the Historical Book Order Form here.

Top
Hours: Tuesday - Sunday Special Winter Hours - 11 am to 4 pm
Museum Members: Free
Adults: $5
Seniors: $4
Children 6-12: $4
Families: $50
Children 5 & under: Free
Volunteers Needed!
Do you like to meet and greet visitors to the area? Teach children about our history? Clean, research or catalog artifacts from long ago? If so, we could have an interesting volunteer job for you – or someone you know! Volunteers are needed for tending the front desk, giving school tours, and doing catalog work at the Skagit County Historical Museum at the top of the hill in LaConner. Volunteers can work from one day per week to one day per month. Interested?
Call 360-466-3365 for more information.

Top

Contact:
Skagit County Historical Museum
501 4th Street / P.O. Box 818,
La Conner, WA 98257-0818

(360) 466-3365
email: Museum@co.skagit.wa.us

Top