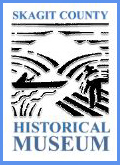 Historical Museum

Located in La Conner

"Come to the top of the hill for a spectacular view of Skagit County history"
Featured Exhibits

Celebrating 50 Years of Excellence

50 Years of Memories
June 15, 2018 - March 2019

A history of the Skagit County Historical Museum 'at the top of the hill'. Including the stories, the people and the places that make the Museum so special. Learn why museums are in place, what we do, and how we do it!


Foundations for the Future
August 24, 2018 - March 2019

From founders to donors, there were many individuals and families of Skagit Valley who contributed to building the foundations for the present day Skagit County Historical Society. The community and cultural heritage of Skagit is diverse and unique. Discover the stories of those who began - and continue - to preserve and present Skagit History for all people, for all time.



Special Exhibits

As we celebrate our 50th year, we will be sharing a variety of items from our collection.

Let's Have a Picnic!
Through September 2

Treasures from the collection that will put you in the summertime picnic mood!


Readin', Ritin', and 'Rithmetic
September 6 - November 11

Over 100 years of books and other memorabilia from schools in Skagit County. (Might even be a 'hickory stick'!)
"Happy Christmas, Happy New Year"
November 23 – March 2019

As the Beatles sang in 1968, "we'd like to wish everyone a Happy Christmas and a Happy New Year!" Enjoy this special exhibit of toys and gifts from the '60s!
Events


Sunday, September 30 12 - 4 PM
5th Annual Historic Cemetery Tour
Mount Vernon Cemetery
Enjoy an historic tour of the Mount Vernon Cemetery – actors will share the stories of some of the unique people for whom this is their final resting place.


Saturday, November 3
50th Anniversary Party!
Maple Hall, La Conner
Dust off those bell bottoms, mini-skirts and Nehru jackets! Come and party like its 1968! Join us as we celebrate this milestone in the history of the Museum. Heavy appetizers, no-host bar, raffle, silent and live auctions, 60's music and dancing!
Stay tuned for more information.

Thursday, December 6
Holiday Gala/Annual Appeal Kick-off
Start the season off right with a party at the "top of the hill". Enjoy "Happy Christmas, Happy New Year", good food, great company – and learn how you can help support the exciting things happening at the Museum.
Plus! Witness the opening of the Time Capsule from 1969!!

EVENTS AT CITY SCHOOL

Sunday, July 15  1 to 4 pm
Skagit City School Picnic
On the Grounds of the Historic Skagit City School
1 - 4 pm
Join us for the Skagit City Picnic!  This annual event gathered former students and people with links to the Skagit City area of Fir Island.  Join us as the bell rings, bringing folks to this "everyone's invited" party!  Learn more about the history of Skagit City and an update on the rehabilitation project. Tickets available at the Museum, by calling 360-466-3365 or on-line through our website www.skagitcounty.net/museum.

Saturday & Sunday, August 4 & 5
Sale @ The School
Everything has a History!

New location!  So many treasures! 
Please contact us if you have items to donate to this sale. 
Saturday 9 - 5 and Sunday 10 - 3     

Sunday, August 12
Old Fashioned Family Fair
12 pm to 4 pm
Free Event
An afternoon of family-friendly activities, free of charge! Play old-time games, learn about life on a homestead, and experience an old-fashioned fair on the Skagit County Fair weekend! Hosted by the Skagit County Historical Museum and the Children's Museum of Skagit County.

Monday thru Friday  August 20 – 24
Pioneer Life
Presented by Children's Museum of Skagit County
Day Camp daily from 9 AM to 4 PM
AGES 7 & UP. Campers will explore the Pioneer life style in an authentic setting by playing old-time games, making corn husk dolls, baking bread & corn muffins, churning butter, pretend gold mining, candle dipping, weaving and much more!  $175.  Contact the Children's Museum at (360) 757-8888 or skagitchildrensmuseum.net for more information.

Wednesday September 26
Annual Meeting of the Skagit County
Historical Society
5:30 - 7:00 pm
Enjoy Skagit City School and celebrate all the amazing activities of the past year!
A brief business meeting will be held at 6:30 PM. 

Topics @ The School

From 1 to 3 pm at Skagit City School
Regular admission prices apply unless otherwise noted.

Saturday  October 20
Skagit's Amazing Craft Brewing Industry
Skagit Valley Malting & local brewers
Join us to learn about the exciting innovations being led by Skagit based Skagit Valley Malting as well as their farm partners and local breweries. 
Then head to La Conner for "Brew on the Slough"!  Go to lovelaconner.com for more information about this fun event.

Saturday  November 3 Cancelled
Seeds of Hope with Growing Veterans

An engaging presentation by Growing Veterans, a non-profit organization working to connect military veterans to the legacy of agriculture in the Skagit Valley, and to their local community. Growing Veterans provides "dirt therapy" as well as employment, volunteer, and internship opportunities on their organic farm sites. A peer-to-peer program connects veterans of all eras together, from World War II veterans to Korean War, Vietnam, and current conflict veterans.

Classes @ The School

Saturday September 15
Preserving Family History, an Introduction: Heirloom Workshops
Introduction to Photograph & Document Care 10 am - 12 pm 
Optional Lunch 12 pm - 1 pm
Introduction to Preserving your Family Textiles 1 pm - 3 pm

Join Skagit County Historical Museum staff for a day of workshops introducing you to techniques for properly documenting, storing, and taking care of your family heirloom collections. Sign up for one or both of our workshops to learn skills for recording oral histories, preserving old photos and documents from damage, properly storing baskets, quilts, shoes, hats, clothing, and more. Learn what museum archivists and curators do to ensure that the stories with a treasured heirloom are passed on to the next generation.

$40 each 2-hour workshop / $35 member rate

Craft Classes
Stay tuned for information about crafting classes being offered at Skagit City School throughout the fall.