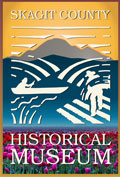 Historical Museum
Located in La Conner
"Come to the top of the hill for a spectacular view of Skagit County history"
Featured Events
'Who Are We?' and 'This Skagit Life'
April 11 through September 15, 2019


'Who Are We?'
'Who Are We?' is a collection of stories that explores a diverse group of Washingtonians who have deed long odds and shaped our communities. It explores who we are as Washingtonians, recognizing that this is a state constantly reinventing itself with new people and new ideas, while examining the lives of some of the most fascinating and diverse people who live in the state today.  Thank you to Legacy Washington and the Secretary of State's office for the loan of this exhibit.

'This Skagit Life'
'This Skagit Life' features interviews with Skagitonians – sharing what makes Skagit the unique and fabulous place.  Stories from folks whose families have been here for generations – and those who have chosen to be part of Skagit just recently.  Stories from throughout our amazing County.  Thank you to the Skagit Watershed Council for bringing this project to us and providing interviews.

Hometown Teams:  How Sports Shape America
September 28 though November 10
We are privileged to host this wonderful exhibit from the Smithsonian Museum's Museums on Mainstreet program.  'Our love of sports begins in our hometowns.  We play them on ball fields and sandlots, on courts and on ice, in parks and playgrounds, even in the street.  From pick-up games to organized leagues, millions of Americans of all ages play sports.   Win or lose, we yearn to compete  and  play another day.'    'No part of  American  culture so  colorfully and  passionately celebrates American ide as as does sports.'. 
Along with this exhibit we will be presenting an exhibit on Sports in Skagit.  If you have any stories or memorabilia you would like to share, please contact Jo at jwolfe@co.skagit.wa.us.

Special Exhibits
Fancy!
April 11 through June
Lovely dishware, silver and crystal from the Museum Collection.