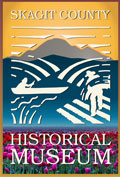 Historical Museum
Located in La Conner
"Come to the top of the hill for a spectacular view of Skagit County history"
OnCell Mobile Tour:
Dial 360-355-3039 to access audio recordings of each barn.
When prompted, enter the number of the Barn you are interested in. 
While listening to the recordings, you can press:
1 to rewind
2 to pause/play
3 to fast forward
# to skip
Press *0 to leave feedback about your tour.
We appreciate your comments!