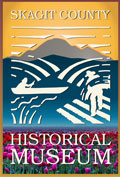 Historical Museum
Located in La Conner
"Come to the top of the hill for a spectacular view of Skagit County history"
Skagit County Historical Museum Volunteer Application
Do you want to be a part of preserving and sharing history? How about teaching children history through games and interactive displays? Or are you more organized and willing to research or catalog artifacts from long ago? If so, we have an interesting opportunity for you. Spend some time with our curators, collections specialist and attend special events hosted through the Skagit County Historical Museum at the top of the hill in La Conner.
We are flexible and offer projects from one day per week to one day per month. Although our museum is open to the public Thursday – Sunday, our volunteers show up a variety of days and times. Complete the form below and expect a follow-up email from us to schedule a quick telephone interview.