GIS
Geographic Information Services
Director: Geoff Almvig

View PDF maps and let your smart phone show you where you are on the map!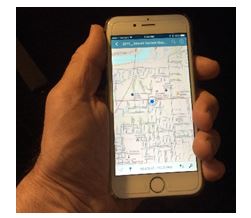 Skagit County now makes maps available as a geoPDF so that you can locate where you are on the map. A geoPDF is like a normal PDF but with mapping coordinates built in. All you need is an App to read the geoPDF and the geoPDF file to get started.



The App and the maps can be downloaded ahead of time (when you are connected to WIFI). Once installed the app doesn't require cell coverage and doesn't use any cellular data to operate!



HOW TO GET STARTED
Download the free Avenza Maps app to your Apple iOS, Android, and Windows smartphones and tablets.
Once installed, use the app to search the Avenza Map store to find your map. Download as many maps as you wish. Skagit County makes the maps available for free.
Other maps are available at a cost.
More info about Avenza maps can be found here
Some map examples:
Sharpe Park
(Search words: Sharpe Skagit)

Northern State Recreational area Frisbee golf course
(Search Words: Skagit, Disc)