GIS
Geographic Information Services
Director: Geoff Almvig
Skagit County is proud to offer a spiral bound
TOPOGRAPHIC ATLAS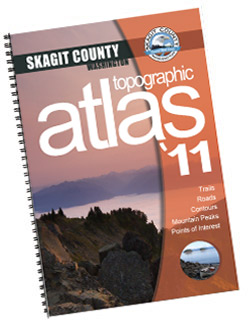 This quality, limited edition, 84 page 11"X17" atlas contains current roads, trails, topography, rivers and streams, photos and points of interest in a easy-to-use format, spiral bound between two laminated covers.
Priced at only $51.11* (not including shipping and handling)
Available from:
Skagit County GIS
1700 East College Way
Mount Vernon, WA 98273
(360) 416-1142


We've also made the maps contained in the atlas available for FREE download. The PDF file maps can be downloaded by selecting a number on the corresponding map area below. The files are "press quality" 11x17.
Please note: most of the files available are between 1MB and 4MB's in size,
so download times may vary depending on your internet connection speed.


You can also download individual town/city maps for:
Anacortes | Burlington | Concrete | La Conner | Mount Vernon | Sedro-Woolley
All the files including cover artwork and informational pages can also be downloaded directly from our FTP site:
ftp://ftp.skagitcounty.net/GIS/Documents/Atlas

*Price reflects the actual costs for quality printing by Printwise Inc., Mount Vernon and tax
(price does not include shipping and handling)