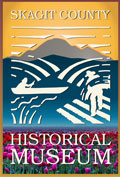 Historical Museum
Located in La Conner
"Come to the top of the hill for a spectacular view of Skagit County history"
| | |
| --- | --- |
| | Educational Tours at Skagit County Historical Museum |
Hands-on Skagit Tour (3rd grade hands –on tour)
2 hours and 5 min.
A workshop consisting of 90 minute instruction and discovery concentrating on the Native Americans, transportation and early industries of Skagit County. The class is divided into two groups. Group One tours the South Wing Gallery. Group Two participates in a hands-on workshop with 4 stations. Halfway through the tour, the groups switch.
There's Ore in Them Thar Hills
All about ores found in Skagit County and how miners weighed and recorded their findings. Kids will explore their properties and work on a chart.
Bottoms up
Boats and Native American canoes had to be specially designed to deal with the low waters of the Skagit River and sloughs. Will look at models of shovel nosed canoe and make a paper model.
Gone to Seed
The seed industry is over 110 years old. Using magnifying glasses, students will analyze different types of seeds and examine tools and photographs of old equipment. Then they will make a seed packet.
Logging the Woods
Will explore the cruiser's logbooks and tools used for choosing trees for cutting. Getting the trees to the river and rafting.

Each station is run with parent help. Parents will be trained prior to the arrival of kids coming on the bus. This will be an opportunity for parents to participate in their student's field trip and education.
EALR's
History 2 and 2.1 Student uses methods of social science investigation

Math 2 and 2.3 Student constructs solutions

Reading 3.1 Student reads to learn new information

Writing 2.2 Student writes for different purpose
Know Your Skagit Tour General Tour
Time: 1 hr and 35 min.
Complete tour of museum + artifact discovery session. Early history of the county: Native Americans, transportation, early industries of Skagit County, and family and settler life between 1860 and 1920.
EALR's
History 2 & 2.1, Economics 1 & 2, Geography 1,2 &3
Time Traveler's Trunks
These outreach boxes are to be used with tours as enrichment; they contain artifacts, photographs, historic documents and activities.
School Days
Early schools of Skagit, teacher resource and activity
Early Families of Skagit County Primary
Time: 1 hour
Tour of North Wing and Skagit County life 1890-1910. Storybook and a chance to handle artifacts up close.
TO ARRANGE FOR A TOUR AT THE MUSEUM CALL (360) 466-3365