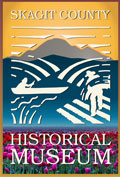 Historical Museum
Located in La Conner
"Come to the top of the hill for a spectacular view of Skagit County history"
Wages of Workers in 1900
As towns and cities grew in 1900, so did the variety of jobs. Men still were major the breadwinners and worked as professionals, public sector workers or as laborers. Only teaching and clerical work were acceptable for women and they earned about half of what men made. Teachers taught only 4-5 months out of the year. About 7% of all wives worked outside the home.
Although wages from this period seem very low, its important to remember what things cost in that time and place. Housing took most of a workers money in a city. A 2 or 3 room apartment with a coal stove in a tenement could rent from $4-7 per month to $8-10 per month. It had no bath or toilet. Housing in a better neighborhood could cost $25-60 per month. Loggers or miners lived in camps and had their food come out of their wages.
Laborers worked long hours. Loggers often put in sixteen-hour days. Other occupations worked sixty hours a week regularly.
Below is a list of wages from a variety of jobs in 1900. Find out what people earned, then go look at the product ads from the same year.
| | | |
| --- | --- | --- |
| Job Title (Skilled) | Wage by the hour | Gender |
| Bricklayer | 46-50 cents per hour | man |
| Hod carrier | 25-48 cents per hour | man |
| Construction laborer | 17-60 cents per hour | man |
| Plasterers | 44-50 cents per hour | man |
| Boiler makers | 27-54 cents per hour | man |
| Foundry laborers | 16-56 cents per hour | man |
| Machine woodworkers | 25-54 cents per hour | man |
| Newspaper compositors | 36-54 cents per hour | man |
| | | |
| --- | --- | --- |
| Job Title (Public jobs) | Wage by the year | Gender |
| Janitor | | |
| Janitor | | |
| Coal passers | | |
| Firefighters | | |
| Patrolmen | | |
| Police matron | | |
| Laborers | | |
| Stenographer | | |
| Male clerks | | |
| Mayor | | |
| Department heads | | |
| Middle class jobs: assistant, chief clerks, Lawyers, police and fire supervisors | | |