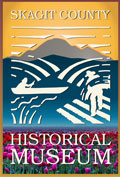 Historical Museum
Located in La Conner
"Come to the top of the hill for a spectacular view of Skagit County history"
Wages of Loggers in 1887
A logging camp crew in the 1880's consisted of "a Foreman, Teamster and two Choppers, two Sawyers, two Skidders, two Swampers, a one Handskidder, one Hooktender, a Skid Greaser, a Landing Guard, A Barn-man, a Cook and one or two extra hands."
| | |
| --- | --- |
| Name of Job | Wage |
| Teamster | $125.00 per month |
| Foreman | $100.00 per month |
| Choppers (fallers) | $70.00 to $80.00 per month |
| Hooktenders | $70.00 to $80.00 per month |
| Sawyers (buckers) | $70.00 to $80.00 per month |
| Sawmper | $50.00 to $60.00 per month |
| Skid-greasers | $40.00 per month |
SWAMPERS CUT OUT THE ROADS AND REMOVE LIMBS FROM THE TREES AFTER THEY WERE DOWN
SKIDDERS BUILD THE SKID ROADS: LOGS 10"-18" IN DIAMETER 12' TO 18' LONG. SET 9' APART AND BUIRED IN THE GROUND TO HALF THEIR DIAMETER.
FALLERS FOLLOWED THE SKIDDERS. THEIR JOB WAS TO CUT THE TREES DOWN.
SAWYERS OR BUCKERS CAME AFTER THE TREES WERE DOWN. THEY CUT THE HUGE TREES INTO LOGS.
BARKERS TAKE THE BARK OFF THE TREE.
LOGGERS SHOPPED FOR EXTRAS SUCH AS CLOTHING AND BOOTS AT THE COMPANY STORE. OFTEN WHEN THEY GOT PAID, THEY WOULD GO AND LOSE IT ALL IN TOWN AFTER PAYING OFF THEIR FOOD BILL AT THE CAMP OFFICE.