Farmland Legacy Program
Natural Resource Lands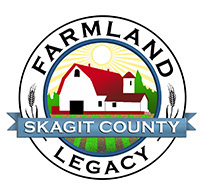 FARMLAND LEGACY PROGRAM
1800 Continental Place
Mount Vernon , Washington 98273
"Honoring our past, sustaining our future,
where Skagit farms are the pride of the community"

The Skagit County Farmland Legacy Program is a county initiative that purchases agricultural easements on Skagit farmland, and works to support policies, programs, and plans that enhance the protection of farmland. Funding comes from the conservation tax and is often leveraged with federal and state grants and private donations.
Responsibilities
The Skagit County Conservation Futures Advisory Board is responsible for administering the Farmland Legacy Program, which purchases development rights and places perpetual conservation easements on agricultural lands.
Program Concept
Purchase of Development Right (PDR) programs have been established in many localities across the country as a means of protecting farmland for long-term agricultural use. PDR is a voluntary program which enables property owners to sell their development rights to the County while holding fee simple title to their land and continuing to farm. The easement places permanent restrictions on future use and development of the land in order to protect its agricultural character and productivity.
Easements are held by the County in perpetuity. The property owner continues to own the land and may sell or lease the farm if he or she chooses but the development restrictions run with the land. The intention is to maintain the farmland in a productive manner allowing uses that support that goal.
Contact
Program Coordinator: Kara Symonds
(360) 416-1447
karas@co.skagit.wa.us
Related links:
Meetings

The November 13 meeting is cancelled

CFAC meets the 2nd Tuesday of the month at 7:00 am
at 1800 Continental Place in the Skagit Room
(Unless otherwise noted)

Conservation Future Advisory Committee (CFAC):

| | |
| --- | --- |
| | District 1 |
| | District 2 |
| | District 3 (Chair) |
| | Conservation District |
| | Skagit Land Trust |
| Steve Sakuma | Skagitionians to Preserve Farmland |
| | At-Large |


History of the Legacy Program

1996
The Farmland Legacy Program is established by the Skagit County Board of Commissioners, enabling use of the Conservation Futures taxing mechanism authorized by the state legislature for easement purchase.

1998
The Farmland Legacy Program is awarded a federal matching grant of $450,000 for farmland protection by the United States Department of Agriculture.

1999
The Conservation Futures Program purchased development rights and placed easements on over 500 acres in its first full year of operation.

2001
The Conservation Futures Program obtained 25 properties under easement, representing 2,300 acres.
The Farmland Legacy Program is awarded a federal matching grant of $304,800 for farmland protection by the United States Department of Agriculture.

2004
Skagit County hosted the 2004 Washington Agricultural Summit, expanding the "Western Washington Ag Summit" to include the whole state, and drawing over 150 people.
The Conservation Futures Program protected a 400+ acre dairy farm immediately north of the City of Burlington . Keynote speaker, United States Congressman Rick Larsen, helped celebrate the protection of this most strategically important property to-date.

2006
The Conservation Futures Program protected over 5,000 acres.

2009
Nearly 7,000 acres protected; the largest grant to date offered from USDA for $720,000; Received State RCO grant for $319,000 awarded to Smith farm, which won the top ranked project in the state; and partnered with The Nature Conservancy for the first time and Skagit onians to Preserve Farmland for the second time.


2016
Over 10,000 acres protected. Ongoing partnerships with the U.S. Department of Agriculture, Washington State Recreation and Conservation Office, and Skagitonians to Preserve Farmland leverage the local Conservation Futures funding and ensure compliance with existing easements.




Agendas

Minutes

2018

2017

2016

2015

2014

2013

2012

2011

2010

2009