Communicable Disease
Director: Jennifer Johnson
NOW SCHEDULING PFIZER VACCINES FOR AGES 16+
COVID-19 | Skagit County Public Health Vaccination Site and Vaccine Information

For assistance, call the Public Health COVID-19 vaccine hotline: 360-416-1500
Monday- Friday 9:00 a.m. - 4:00 p.m. English and Spanish-language call takers available.
Vaccine appointments can be scheduled over the phone.

New operating hours:
Wednesdays, Fridays & Saturdays | 10am-4pm | BY APPOINTMENT
Thursdays | 1pm-7pm | Walk-up Clinic; no appointment required

All Washingtonians 16 years of age and older are now eligible for the COVID-19 vaccine.If you are 16 or 17 years old, please make sure you are scheduling an appointment to recieve a Pfizer vaccine.

Parent/guardian consent to vaccinate will be required for all dependent minors (ages 16-17) and can be provided either in-person or over the phone at the time of the appointment.

TO MAKE AN APPOINTMENT
If you have had a severe allergic reaction to an injectable vaccine or medication previously, please schedule your vaccination through a medical provider or clinic rather than at the Fairgrounds site. A list of other providers can be found here.
Schedule an appointment using a link below:
Thursday, May 13 from 1pm-7pm: NO APPOINTMENT REQUIRED - DROP IN CLINIC
Note: Once you schedule an appointment, please keep it! If you no longer need your appointment, call the Hotline: (360) 416-1500.
FOR SECOND DOSES ONLY:
Those who receive their first dose through Public Health will be guaranteed their second dose. Public Health will email a private web link to individuals once they receive their first dose at our clinic. Individuals will be asked to confirm their second dose appointment.
The date and time of second appointments are determined when an individual receives their first dose based on the recommended timeframe for the brand of vaccine they received. Second doses must be administered within the recommended time-frame to ensure effectiveness: 21 days after first dose for Pfizer and 28 days after first dose for Moderna.
HOURS OF OPERATION AND LOCATION
HOURS OF OPERATION

Vaccination at the Skagit County Fairground is available by appointment only (except on Thursdays) and will be based on adequate supply. Wednesdays, Fridays & Saturdays, 10am-4pm: BY APPOINTMENT and Thursdays, 1pm-7pm: Walk-up Clinic; no appointment required.  
LOCATION

Skagit County Fairgrounds, North Gate Entrance (1410 Virginia St., Mount Vernon, WA 98273).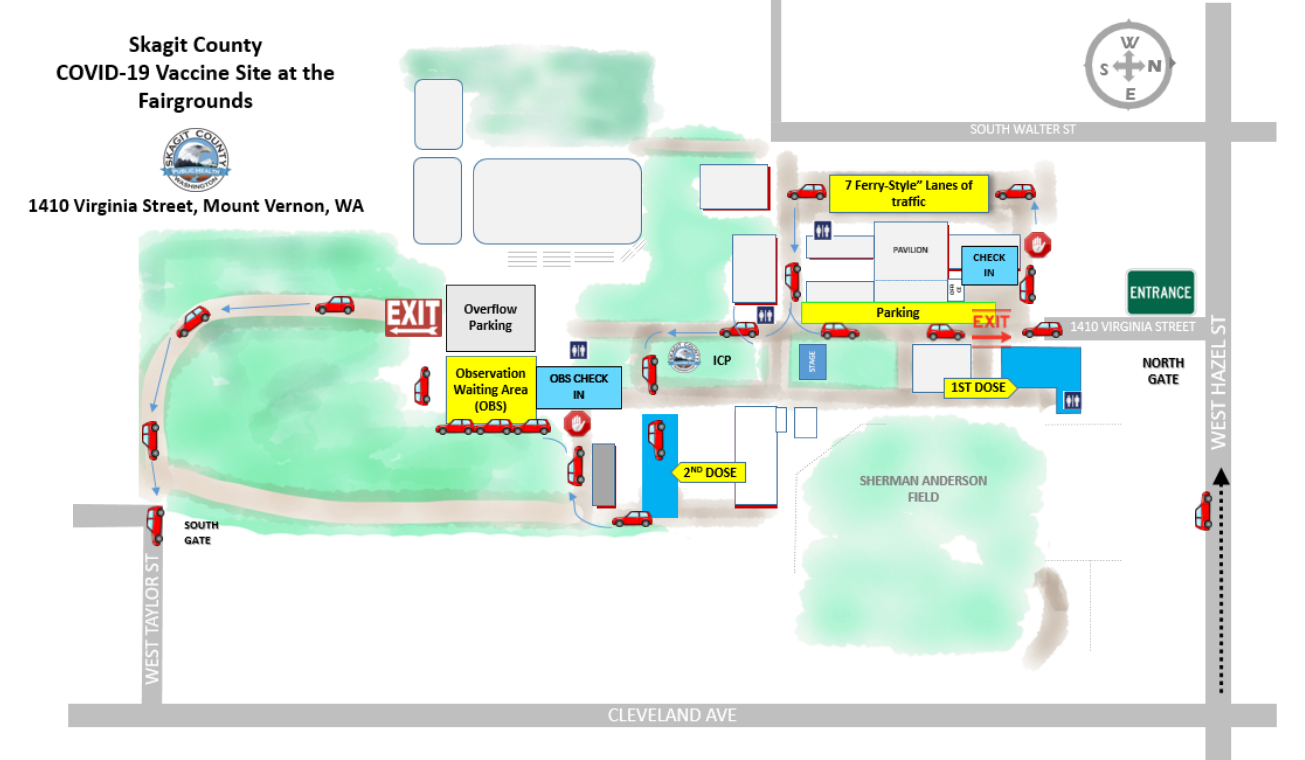 *Map is subject to change
Individuals are welcome to arrive on foot. Read more about 'Getting to your vaccine appointment' here.
WHAT TO EXPECT
This is an exciting time for our community, as vaccine becomes available to a wider portion of our population. Here is a step-by-step guide to Public Health's Vaccine Site at the Skagit County Fairgrounds.  Please allow enough time in your schedule for the process below to take up to 1.5 hours although most appointments will move more quickly than that.

Note: Vaccines are available through other providers in Skagit County, dependent on supply provided by the State. Public Health recommends that you please consult your doctor or pharmacy about other availability. You can also find a list of providers here.

Step 1: Registration

Appointments at the Skagit County Fairgrounds are currently available for all people ages 16 years or older.
Schedule an appointment HERE. Appointment availability is based on vaccine supply. Each individual needs to make a seperate appointment. You cannot make an appointment for 'John and Jane Doe.' Please do not enter mutliple names into the name field in PrepMod.

Please call our vaccine hotline at (360) 416-1500 if you need assistance with registration. The hotline is available in English and Spanish, Monday – Friday, from 9:00 a.m. to 4:00 p.m.
There are very minimal barriers to accessing a vaccine. The federal government is covering the cost of vaccine, making it no-cost for those with or without insurance. Some vaccine locations may submit an administrative fee to your insurance if you have insurance.  Skagit County Fairgrounds vaccine site will not request any insurance information or bill an administrative fee. When you arrive, you will not be expected to provide insurance information or residency information. It is truly the goal of the County to provide vaccine to all those who want it.

Step 2: Arriving at the site

The Vaccine Site is located at the Skagit County Fairgrounds, North Gate Entrance (1410 Virginia St., Mount Vernon, WA 98273).

Once through the gate, vehicles will be directed to a holding area which will operate similar to a ferry system. Once there is space, vehicles will be moved through the site, either to a parking lot for the walk-in clinic (for first dose) or to the F Barn for the drive-thru clinic (for second dose).

If instructed toward the parking lot, individuals will be asked to remain within their vehicle until instructed to come into the building. Please note: We ask that only individuals with a vaccine appointment enter the vaccine building at the A/B Barn. However, people requiring assistance from another adult are welcome to bring that adult in with them. Free child-watching services are available on site, provided by the Children's Museum of Skagit County.

If instructed to continue to drive toward the F Barn, drivers will proceed based on instructions from our traffic staff.

Step 3 & 4: Checking in & Vaccination

Walk-in clinic (for first dose)

We ask that people adhere to physical distancing requirements while in the building, and that a surgical mask is worn at all times. If you do not have a surgical mask, one will be provided. Unless you have mobility needs, please arrive alone to your appointment.

Once an individual enters the Vaccine Building, they will be greeted and asked to fill out a consent form. This form helps staff fill out each person's Vaccine Card, which documents when their first dose was administered and what brand of vaccine was provided. This will also be a time for people to read about the vaccine they will be receiving.

Individuals will be asked to remain seated until called forward by staff.

Once the consent form is complete and when a nurse is available, individuals will be called to an enclosed area. Here, the nurse will be able to answer questions that you may have and will screen for any possible health issues that may be of concern for someone receiving a vaccine.

From here, the nurse will administer the vaccine: a simple shot in the upper arm, similar to a flu shot.

Drive-thru (for second dose)

After following directions to the F Barn, vehicles will enter one-at-a-time into the building. Those with an appointment will receive their vaccine while seated within their vehicle. A nurse will ask that individuals roll down their windows, and the vaccine will be administered in this way.

A nurse can determine if someone is not able to receive the vaccine while in their vehicle. If this is the case, there will be space for individuals to exit their vehicle and have the vaccine administered outside of their vehicle.


Step 5: 15-Minute Monitoring

A 15-MINUTE HOLDING PERIOD IS REQUIRED FOR ALL THOSE WHO RECEIVE VACCINE.

Those who are vaccinated will be required to wait for 15 minutes in our holding space—either in our waiting room (for first dose) or in our holding parking lot (for second dose). Staff in this area will monitor individuals for any possible side effects, such as light-headedness, dizziness, nausea, or shortness of breath.

Once the 15-minute holding period is complete, people are free to leave.
FREQUENTLY ASKED QUESTIONS
What vaccine will be administered at this location?

Public Health receives vaccine allocations from the State, and it is possible that either the Moderna vaccine or Pfizer vaccine will be available at the Fairgrounds clinic depending on what is allotted. Please note: When registering for an appointment online using PrepMod, it will be noted which vaccine will be provided on that clinic date. Pfizer-BioNTech COVID-19 vaccine: The vaccine is authorized for emergency use in persons aged 16 years and older. This is a two-dose vaccine, given 21 days apart. Clinical trial data show the vaccine is 95 percent effective at preventing COVID-19 infection starting seven days after the second dose. Individuals will not be considered fully protected until one to two weeks after they receive the second dose. The clinical trials revealed no major unanticipated adverse events. Moderna COVID-19 vaccine: This vaccine is authorized for emergency use in individuals aged 18 years and older. This is a two-dose vaccine, given 28 days apart. Clinical trial data shows the vaccine is about 94 percent effective after two doses. No serious safety concerns were found.  
How much will a vaccine cost?

There are very minimal barriers to accessing a vaccine. The federal government is covering the cost of vaccine, making it no-cost for those with or without insurance.
How long does it take to get a vaccine?
Wait times will depend on how quickly we are able to serve people on any given day. You should allow for 1.5 hours in your schedule to go through the fairgrounds vaccine clinic although most people will complete the process in less time than this.
Please do not arrive sooner than 15 minutes prior to your appointment time.
We ask that only those who have an appointment enter the clinic.However, people are welcome to bring one adult with them inside the building if they need assistance.
I've heard that Skagit Public Health gives out unclaimed doses at the end of the day on a first come, first served basis. Is this true? Can I show up and wait to see if any are available at the end of the day?

Yes, the Skagit County Fairgrounds Vaccine Clinic now accepts people on a first-come-first-serve basis daily beginning at 2pm. However, those who arrive to the site for an unclaimed dose are not guaranteed a vaccine, as availability will vary each day.


What will I need to bring with me?
For those receiving their second dose, please bring your Vaccine Card with you. This card will be given out when individuals receive their first dose, and will have your name, date of first dosage, and vaccine type given.
You will not need your insurance card to access an appointment at the Skagit County Fairgrounds Clinic. Vaccines are provided free of cost to all insured and uninsured individuals.

Are interpreters available for non-english speaking individuals?

Yes, we have Spanish-speaking staff on site.
How many vaccines can be administered each day at this location?
The number of individuals who can be vaccinated will depend on allocations from the federal and state government. With adequate supply, Public Health's capacity to vaccinate is approximately 300 people per day.
How long does Skagit County Public Health plan to provide community COVID-19 vaccination?

We will conduct vaccination at our site for as long as there is adequate supply, and as long as there is community need.

I don't live or work in Skagit County. Can I still get the vaccine here?

Vaccination at the Fairgrounds will be open to all people who register, regardless of location of work or residence.
Why is a vaccine important?

Wearing masks and social distancing help reduce your chance of being exposed to the virus or spreading it to others, but these measures are not enough. Vaccines will work with your immune system so it will be ready to fight the virus if you are exposed. A COVID-19 vaccine will help to protect you by creating an antibody response without having to experience serious illness.
Will it be safe?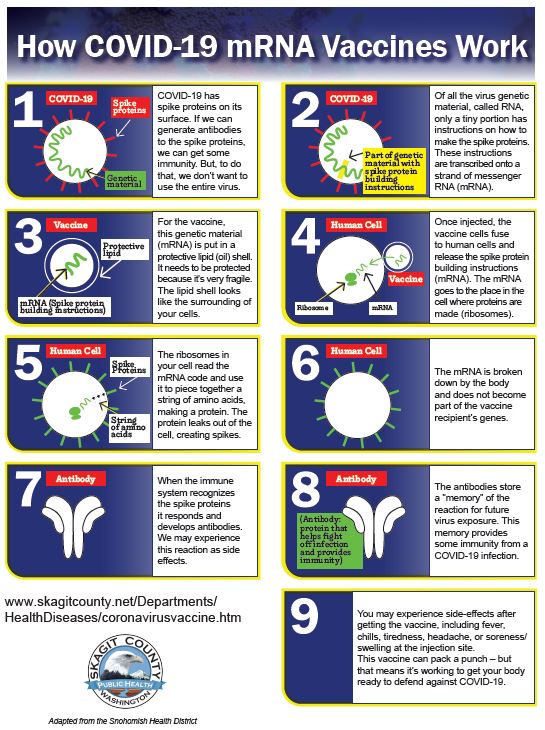 The speed in which these vaccines have been developed and the newness of the technology can seem scary to some. It is important to understand that mRNA vaccine technology has been in development for over 10 years.  Safety of the current mRNA vaccines approved or under approval review has in no way been compromised, even with a quicker development timeline.
Rather than eliminating steps from traditional development timelines, steps are being conducted simultaneously. Clinical trials include thousands of study participants to generate scientific data and other information for the Food and Drug Administration (FDA). This data is then analyzed to determine safety and effectiveness.
There are vaccine safety monitoring systems in place to track any possible side effects. If an unexpected adverse event is seen, experts quickly study it further to assess whether it is a true safety concern. Experts then decide whether changes are needed in vaccine recommendations.
How many doses will I need?
All but one of the COVID-19 vaccines currently in Phase 3 clinical trials in the United States need two shots to be effective. The other COVID-19 vaccine uses one shot. The Pfizer-BioNTech COVID-19 vaccine is a two-dose vaccine, given 21 days apart. The Moderna vaccine is also a two-dose vaccine, given 28 days month apart. People should anticipate receiving both doses at the same location.
When will we be able to open things back up again?
There is not enough information currently available to say if or when CDC will stop recommending that people wear masks and avoid close contact with others to help prevent the spread of the virus that causes COVID-19. Experts need to understand more about the protection that COVID-19 vaccines provide before making that decision. Other factors, including how many people get vaccinated and how the virus is spreading in communities, will also affect this decision.
Where can I get more information?

There is so much information right now about the COVID-19 vaccine, but there is also a lot of speculation and misinformation. It is so crucial that we seek out credible information! Please turn to trusted sources for health information, including your healthcare provider and public health experts.
Skagit County Public Health has created a COVID-19 Vaccine Hotline, available in both English and Spanish. Staff will be able to assist you with general vaccine questions, and can provide assistance scheduling appointments for the Fairgrounds clinic and provide information on other vaccine provider locations.

Please call Public Health's main line at (360) 416-1500 Monday – Friday, from 9:00 a.m. to 4:00 p.m.
For more about COVID-19 vaccine planning, development and safety standards, visit the Washington Department of Health website:
https://www.doh.wa.gov/Emergencies/COVID19/vaccine
.


Other helpful links: