Skagit County Sheriff
"Committed To Your Safety"
DIVISIONS - SEARCH AND RESCUE
Division Supervisor: Sgt. Chris Kading
Address: 600 South Third Street Mount Vernon WA 98273
Business Phone: (360) 416-1993 - Emergencies Dial 9-1-1
Business Fax: (360) 416-1924
Volunteer for SAR - SAR Homepage

Skagit County Search and Rescue is responsible for the location and rescue of missing and lost individuals in addition to rescuing those in perilous conditions or those that may be injured and unable to rescue themselves.

The Skagit County Search and Rescue Unit consists of over a dozen volunteer organizations under the supervision of a Search and Rescue sergeant and six specialty SAR deputies. Skagit County Search and Rescue works in conjunction with the U.S. Navy, Coast Guard, and other law enforcement agencies throughout the State to accomplish this goal. The search and rescue resources include four wheel drive vehicles, boats, aircraft, snowmobiles, animals, ORV's, hovercraft, and hundreds of volunteers trained to work in a variety of environments under an array of conditions. Rescues and searches occur from the saltwater of Puget Sound to the back country of the North Cascade mountain range.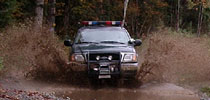 Skagit County Search and Rescue has been involved in hundreds of missions since it's inception over 35 years ago. The Search and Rescue program is succesful only because of the dedicated volunteers that respond to the call for service and the generous support of the Skagit County community. If you are interested in joining search and rescue, or wish to donate equipment or other resources please contact by email Sgt. Chris Kading or by phone at (360) 826-3179.