Skagit County Sheriff
"Committed To Your Safety"
SKAGIT COUNTY'S MOST WANTED
The following are Skagit County's Most Wanted. If you have information on the location or possible whereabouts of a fugitive from justice or person appearing in the Most Wanted list you are encouraged to dial 911. Never approach any of these individuals as they are considered dangerous.
WANTED FOR MURDER IN WASHINGTON STATE
WANTED FOR ATTEMPTED MURDER IN CA. (CA. Code 187)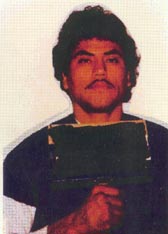 ANTONIO MAGANA CASTRO
DOB: 09/25/1967
DESCRIPTION:
Hispanic Male
5'-07" Tall
170 Pounds
Partial amputation of the right index finger
SCSO CASE NUMBER: 94-6119
CONSIDER ARMED AND DANGEROUS - DO NOT APPROACH
CALL 911 IF LOCATED

aka's:

ANTONIO CASTRO - DOB: 09/21/1967 SSN: 610-36-0924
ANTONIO MAGANA - DOB: 09/25/1967 SSN: 610-36-0928
TONY CASTRO - DOB: 09/25/1968
TONY MAGANA - DOB: 09/23/1967 INS: A72709427
ANONTIO LOPEZ CASTRO - DOB: 09/26/1967 INS: A93279847
ANTONIO CASTRO LOPEZ
PEDRO CAMPOS ZAPATA
Contact Detective Kay Walker at the Skagit County Sheriff's Office with any information on the whereabouts of Antonio Magana Castro at (360) 416-1911 or Dial 911.

---