Skagit County Sheriff
"Committed To Your Safety"
K9
Division Supervisor: Sgt. Annette Lindquist
Address: 600 South Third Street Mount Vernon WA 98273
Business Phone: (360) 416-1911 - Emergencies Dial 9-1-1
Business Fax: (360) 416-1924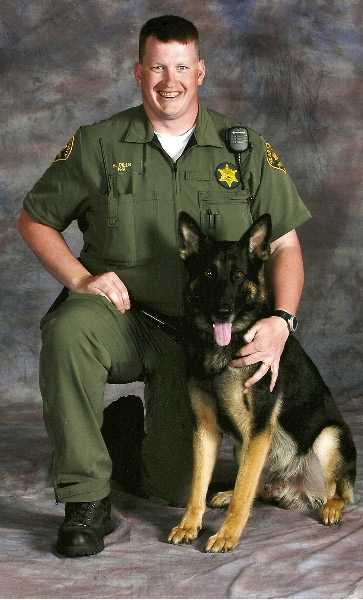 The philosophy and the mission of the Skagit County Sheriff's Office Canine program is to provide reliable patrol dogs to aid law enforcement personnel, in the search, location, and apprehension of criminals. The K9 teams can be applied as a specialized tool in tactical situations and as back-up to augment patrol. The K9 teams may also be utilized to search for evidence of a crime. The Skagit County Canine Program currently consists of one dog team, K9 Doc and handler Deputy Steve Dills. They are a cross trained dog team which means they are able to track humans and search for the odor of drugs.
The Skagit County Sheriff's Office Canine team is the one of two dog teams in Skagit County and is regularly utilized by the cities of Mount Vernon, Anacortes, Sedro-Woolley, and Burlington to assist in the apprehension of criminals and to promote mutual aid among the local agencies within the county.
The Skagit County K9 team trains on a regular basis on tracking, area searches, building searches, evidence searches, clearing vehicles, pursuits, detaining suspects, and handler protection. They also train regularly in narcotic detection. These odors include the 5 major narcotics: Marijuana, Cocaine, Crack Cocaine, Heroin, and Methamphetamine. The handler also provides training to local law enforcement personnel on K9 related topics.
In addition, the team gives demonstrations to local schools and the public to represent a positive and exciting image of Law Enforcement to the community. If your school or organization would like to request a K9 demonstration please contact Sgt. Annette Lindquist at (360) 416-1911.