Skagit County Sheriff
"Committed To Your Safety"
TOWN OF CONCRETE / EAST DETACHMENT
Detachment Administrator: Sgt. Chris Kading
24 Hour Phone: Emergency Dial 9-1-1 - Non-Emergency (360) 428-3211
Address:
Concrete Town Hall Building, 45672 Main Street. Concrete WA
Phone: (360) 416-1911
*Note: This office is not staffed regularly. Please call ahead to schedule an appointment.

The Skagit County Sheriff's Office East Detachment is tasked with providing law enforcement service to the towns and cities of Lyman, Hamilton, Rockport, and Marblemount and has a coverage area from just west of Lyman to the eastern borders of Skagit County with a total coverage area of more than 1000 square miles. The East Detachment office is currently staffed by one sergeant and six permanently assigned east deputies. East deputies are assigned to the east detachment for a minimum of 2 years with the option to stay for up to 5 years.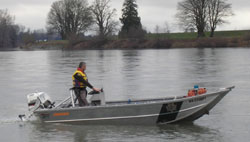 The Skagit County Sheriff's Office East Detachment is also currently providing contract law enforcement services for the City of Concrete. Concrete is located in the foothills of the North Cascades along scenic State Route 20. The City of Concrete has a population of just under 800 but during bald eagle season, fishing and hunting seasons, and during the summer months thousands of people may pass through the city per day.
The Skagit County Sheriff's Office East Detachment is also responsible for coordinating search and rescue services for the entire county and will assist in search and rescue services as needed for the cities of Mount Vernon, Burlington, Sedro-Woolley, and Anacortes. East Detachment deputies are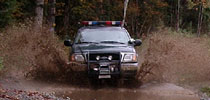 given special search and rescue training in order to equip them with the knowledge necessary to launch a successful search and rescue mission under a wide variety of circumstances and conditions.
Additionally, East Detachment deputies patrol the back-country of Skagit County in specially equipped, four wheel drive and off road vehicles that allow them access to parts of the county that would otherwise be inaccessible .