Skagit County Sheriff
"Committed To Your Safety"
DIVISIONS - BOATING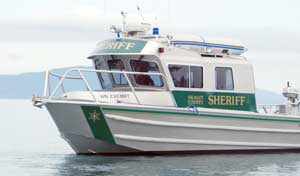 Division Supervisor: Sgt. Tobin Meyer
Address: 600 South Third Street Mount Vernon WA 98273
Business Phone: (360) 416-1911- Emergencies Dial 9-1-1
Business Fax: (360) 416-1924
View Boating Regulations - View Skagit County Lake Boating Info - Other Boating Resources
The Skagit County Sheriff's Office boat patrol unit consists of five, fulltime, commissioned sheriff's deputies and one patrol sergeant. This unit is responsible for all sheriff's office responsibilities on the waters of Skagit County. The deputies are assigned on a part time basis to the boat patrol unit and are available to respond as the situation requires. In addition, these same deputies are regularly scheduled for weekend boat patrol in the summer months between the Memorial and Labor Day holidays.
All of the deputies assigned to the boating unit have been certified by the State of Washington parks department after passing a basic, one week boating academy. In addition many of the assigned deputies have received additional training in boat accident investigation, search and rescue operations, intoxicated boater enforcement and waterborne tactical operations.

The Skagit County Sheriff's office boating unit has been accredited by the State of Washington since 1988. It is largely funded by monies collected by the State of Washington from boat registration taxes with the money then disbursed to all accredited boat patrol programs throughout the State.
The Skagit County Sheriff's office boating program strives to provide safe and enjoyable waterways within Skagit County, through continuing education, vessel safety inspections and enforcement action as may be required.