Public Works Engineering
County Engineer: Paul A. Randall-Grutter P.E.
Engineering Division Manager: Keith Elefson, P.E.

Lower Finney Creek Bridge Repairs



Week 3 Construction:
THE BRIDGE IS NOW OPEN TO TRAFFIC!
Here's what we're doing the week of Aug. 21:
Expect to see crews striping, painting and completing other minor roadwork
Intermittent single-lane closures may happen as crews wrap up construction
Week 2 Construction:
A flagger will guide pedestrians across the bridge 24 hours a day.
Here's what we're doing the week of Aug. 14:
Contractor crews are scarifying the deck, removing old damaged concrete to expose rebar below
Pedestrian traffic can cross 24 hours a day through THURSDAY, AUG. 17.
No crossing is allowed Friday, Aug. 18, when crews pour the concrete deck.
Pedestrians can cross again on Saturday morning, Aug. 19.
Please note that due to construction work, pedestrians may have to wait 10-15 minutes before being guided across the bridge
Week 1 Construction:
Crews will close the bridge to traffic beginning 7 a.m. Wednesday, August 9.
The bridge will remain closed during construction for up to 30 days.
Here's what you can expect to see during the first week of construction:
Crews will dig out the asphalt sections of road that approach each end of the bridge
Crews will plug the scuppers (drain holes) of the bridge and install plastic sheeting to prevent construction materials from getting into Finney Creek.
Crews will remove the guardrail on either side of the bridge (to allow the paving machine to fit), and will install temporary guardrail
A flagger will be on site 24 hours a day to guide pedestrians across the bridge.
Drivers are asked to use State Route 9, State Route 20 and Concrete-Sauk Valley Road to detour around the construction area.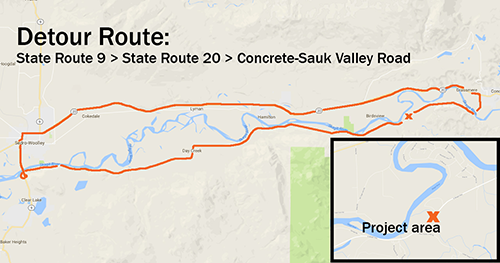 Construction work includes repairing the bridge deck surface by removing concrete using a high-pressure water cannon and replacing it with fast-curing concrete, modifying expansion joints and repairing the asphalt approaches to the bridge.
Lower Finney Creek Bridge
The Lower Finney Creek Bridge was built in 1954. The deck (driving surface) of the bridge is heavily patched and cracked. The paint is chipped in places. The bridge has excellent substructure and superstructure ratings, and this bridge deck rehabilitation project will bring the overall bridge rating up to good condition and add decades onto the life of the bridge.
FAQ's

This detour is going to cost me a lot in time and money. What are you doing to help me out?
Our contractor will allow guided pedestrian access across the bridge during working hours: 7 a.m. to 6 p.m. Monday through Friday. Work may occur on Saturdays. If you need to cross, there will be a pedestrian holding area at each end of the bridge and a flagger will be there to escort you safely across.
Please note: During setup of the paving machine and during paving itself, pedestrians WILL NOT be able to cross the bridge. That work is tentatively scheduled to begin Aug. 16 and end Aug. 25.
The folks at Finney Farm have also offered space for parking, should residents want to leave a vehicle on the opposite side of the bridge.
Skagit Transit is unable to provide additional transit service during construction
Why can't you speed up construction? Can it be done in less than 30 days?
By contract, our contractor has up to 30 days to complete construction. Crews plan to work 7 a.m. to 6 p.m. Monday through Friday, with weekend work possible, in order to complete construction prior to the start of school on Aug. 30.
Why is the detour so long? Is there no other option?
There's no feasible alternative to this long detour, using South Skagit Highway, Concrete-Sauk Valley Road, State Route 9 and State Route 20. We considered the option of a temporary bridge. However, we are required to use all our construction funds by Sept. 2018, and the time required to get permits for bridge construction and installation could have put that construction funding in jeopardy.

What if there's an emergency? How will police, fire or EMS get to me?
We're coordinating with the Day Creek Fire Department and Sheriff's Office, and they're coordinating to ensure there's no lapse in emergency coverage.

Why did the school district and others know about this project a year in advance, but residents didn't?
We should have done a better job providing advance notice to residents and drivers about the upcoming project. We have plans in place to ensure this doesn't happen again. If you have questions about possible future projects in your area, please call Public Works at 360-416-1400.


Contact
For additional information about this project, please contact Bronlea Mishler at bronleam@co.skagit.wa.us or 360-416-1309.
Look for project updates on social media: Twitter and Facebook