Welcome to Skagit County

November 15, 2021

November 15, 2021 7:00 p.m.
City of Mount Vernon recommends evacuation of West Mount Vernon
From the City of Mount Vernon:
This is a recommended evacuation from the City of Mount Vernon. Evacuation is the best option for people to protect themselves in a severe flood event. A flood is threatening areas west of the Division Street (SR 536) bridge.

The latest predictions are available at www.mountvernonwa.gov/riverlevel or 360-416-1404.
The Division Street Bridge closes when the Skagit River Reaches 35 Feet. Based on current information (as of 5:00 PM 11/15/2021), the DIVISON STREET BRIDGE IS LIKELY TO CLOSE AT 9:00 PM. West Mount Vernon residents have been notified of the impending flood levels.

Many areas of the city are protected by levees. The map below shows the levees themselves and demonstrates the areas which are protected by them. If you live in these areas, please sign up for emergency notifications Online at: Https://www.Skagit911.Us/contact.Html
x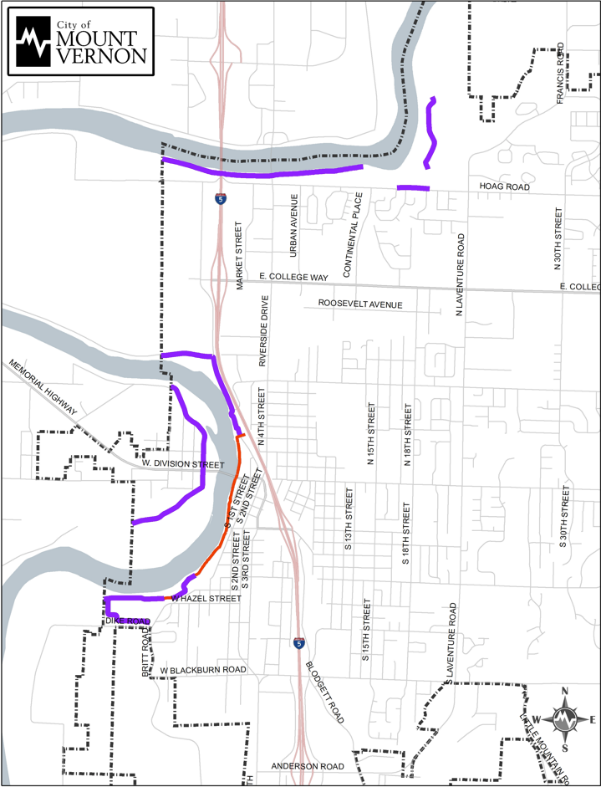 Evacuation shelter: Residents can evacuate to Bethany Covenant Chruch located at 1318 S 18th Street, Mount Vernon. This shelter will open at 6 pm on 11/15/2021. Residents can evacuate over the Division Street (SR 536) bridge until 9 PM on 11/15/2021. Once this bridge closes residents will need to find alternate routes.

ITEMS EVACUEES NEED TO BRING: Evacuees should bring the below-listed items with them. In addition, it is suggested that people bring at least three days' worth of personal supplies to meet their individual needs.

Wallet/Purse that includes personal identification
House/Car Keys
Needed Medications
Proper/Warm clothing
Cell phone
Eye glasses
Family Pet(s)
Cash

DO NOT DRIVE AROUND BARRICADES and STAY AWAY from creeks, rivers, storm drains and water over the roadway.