Welcome to Skagit County

April 28, 2021
COVID-19 Updates from Skagit County
COVID-19 Case Counts & Fourth Wave
Counties across Washington state are experiencing a spike in case counts and hospital admissions. Case rates are increasing across all ages, except people 70 and older; the age group with the highest percentage of fully vaccinated individuals. Recent data has shown particularly sharp increases in people ages 10-49 and shallower, but still concerning, increases in children ages 0-9 and adults ages 50-69. Children ages 0-9 until recently have consistently had the lowest case rates, but now have higher rates than people 70 years and older.
Cases associated with variants of concern are also increasing, with the B.1.1.7 (UK) variant most prominent at this time. These disease strains spread more rapidly and can cause more severe illness.
In Skagit County, case rates are presently at 228.4 new cases per 100,000 population per 14 days. This is the highest rate we've seen since late January.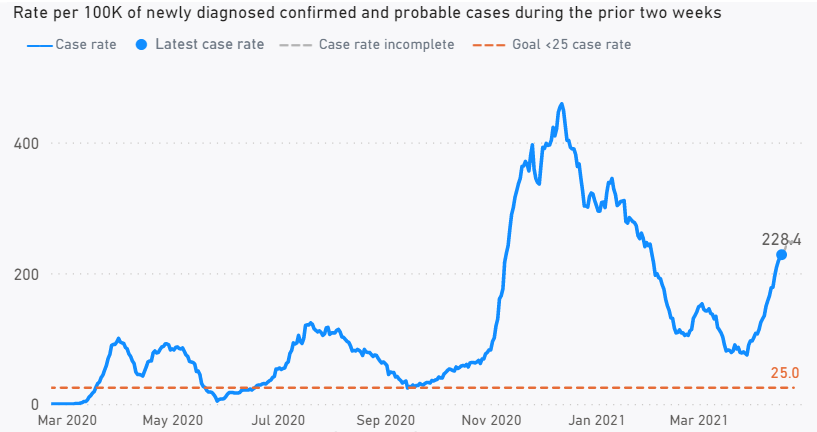 Skagit is also experiencing an influx of new COVID-19 hospitalizations; rates above the state's requirement to stay in Phase 3 of reopening. Of those being hospitalized, many are younger individuals who have not been vaccinated. This has changed significantly since the last disease wave, when those hospitalized were primarily individuals over 70.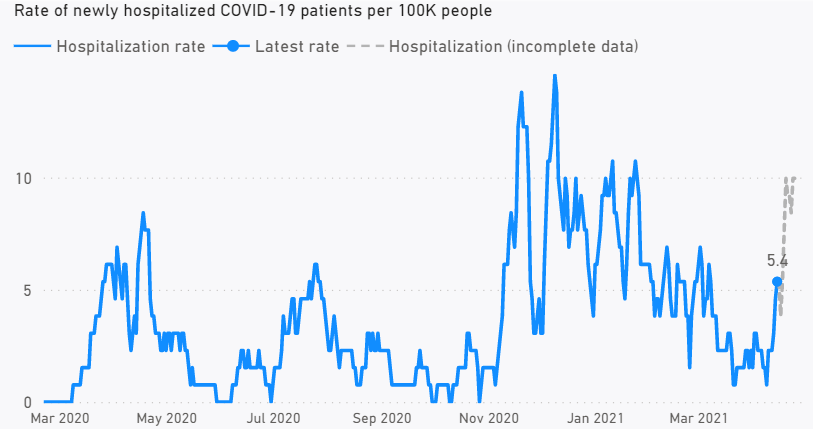 It is clear from this data that the best way to protect yourself and loved ones from COVID-19 is to get vaccinated. There are now more appointments available across our state than ever before. People must also continue to use precautions, especially when in public spaces and when gathering with unvaccinated individuals from outside of their household.
Vaccine Availability at the Fairgrounds
Skagit County Public Health provides weekly vaccine appointment updates on Fridays at 12:00 p.m. on the website: www.skagitcounty.net/COVIDvaccine. New appointments may be added throughout the week depending on availability.
People can also schedule an appointment by calling our Vaccine Hotline at (360) 416-1500. The Hotline is available Monday-Friday from 9:00 a.m. - 4:00 p.m., and Saturday from 9:00 a.m. - 3:00 p.m.  English and Spanish-language call-takers are available to assist you!
Evening vaccine appointments now available at the Fairgrounds
The Skagit County Fairgrounds Vaccine Clinic is now offering evening appointments on Thursdays until 7:00pm. To schedule an appointment, go to: www.skagitcounty.net/COVIDvaccine or call the hotline at (360) 416-1500.
Johnson & Johnson vaccine update
On Saturday, April 24, the Washington State Department of Health (DOH) announced that the state would resume use of the Johnson & Johnson (J&J) COVID-19 vaccine. This decision is based on recommendations from the U.S. Food and Drug Administration (FDA), the Centers for Disease Control and Prevention (CDC), and the Western States Scientific Safety Review Workgroup.
The J&J vaccine is once again available at provider locations throughout the state. To schedule an appointment for a Pfizer, Moderna, or J&J vaccine, go to https://vaccinelocator.doh.wa.gov/.
For the CDC's full recommendations: https://www.cdc.gov/coronavirus/2019-ncov/vaccines/safety/JJUpdate.html
COVID-19 Testing at Burlington Outlet Mall
Northwest Laboratories is now offering drive-through COVID-19 testing in the Burlington Outlet Mall parking lot, located at 448 Fashion Way, Burlington, WA 98233. The Testing Site is available to anyone, at any age, needing or wanting a test. RT-PCR tests are administered at this location, with results available within 24-48 hours.
Appointments are available Tuesdays through Saturdays from 8:30am-11:45am and 1:15pm-4:30pm. Testing is provided by appointment only. Appointments can be made online at www.testdirectly.com or by phone at (360) 543-6904.