Welcome to Skagit County

January 14, 2021
Skagit County to begin 1b vaccinations at the Fairgrounds beginning Tuesday, January 26th


Beginning on Tuesday, January 26th, Skagit County Public Health will be providing COVID-19 vaccination at the Skagit County Fairgrounds for individuals eligible under Phase 1b1 (also known as Tier 1).
People who will be eligible under Phase 1b, Tier 1 include:
All people 70 years and older
People 50 years and older in a multigenerational (2 or more generations) household
Full Phase 1A and 1B guidance is available here.
Public Health's ability to provide vaccine is dependent on supply allocations from the federal and state government. Vaccines are shipped to the county weekly. Our hours of operation will be set each week and may change based on the availability of vaccine.
Vaccine will be available at the Skagit County Fairgrounds using the following schedule, beginning on January 26th (dependent on adequate supply):
Tuesdays – Saturdays: 10 a.m. – 4 p.m.
Please note that vaccine will be available by appointment only. Information will be provided in the coming days on how to register for an appointment.
Once people within Tier 1 have had the opportunity to receive vaccine, Skagit County will progress through Tiers 2 through 4. People eligible for each Tier are listed below: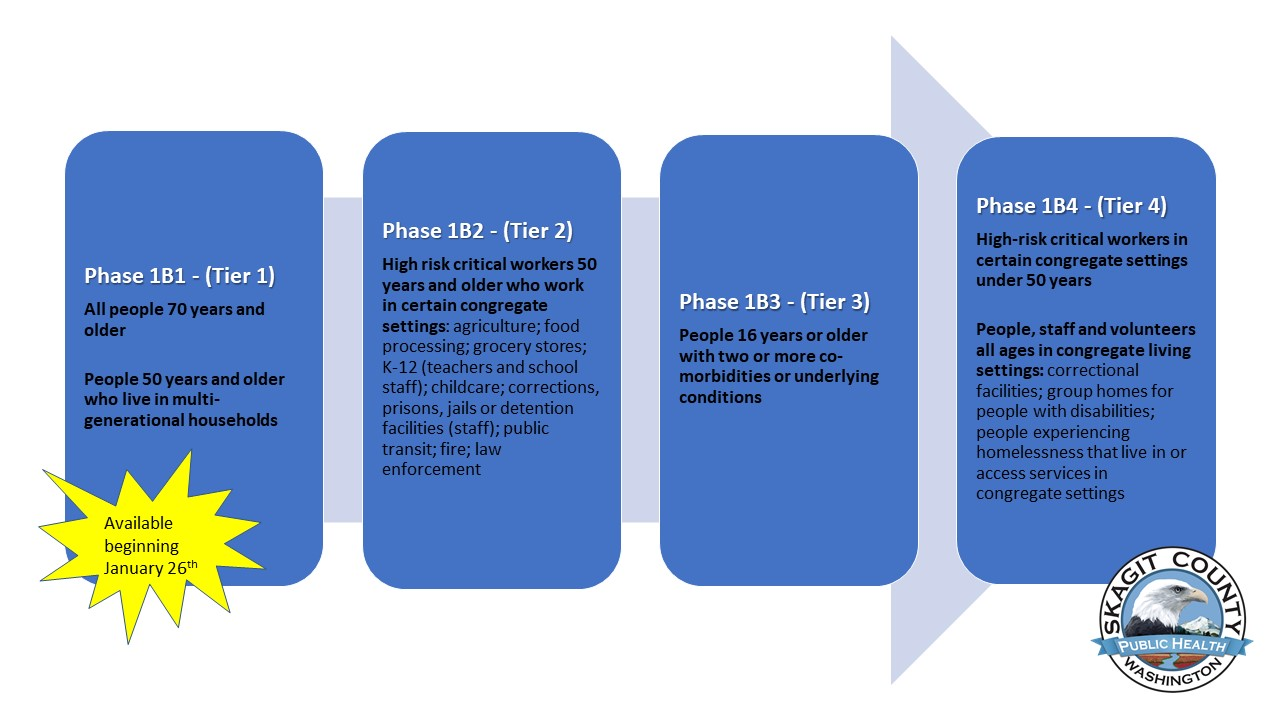 "Skagit County Public Health is working diligently with providers and the State to assure our community's vaccination needs are addressed and that the State knows we have the capacity to administer more vaccine," said Jennifer Johnson, Skagit County Public Health Director. "We are looking forward to making the vaccine more widely available and appreciate your patience and understanding as we work through the logistics of a mass vaccination site. Skagit has been a statewide leader in COVID-19 testing, and we will apply lessons learned in order to be a leader in vaccination as well."
Testing Site Updates
Skagit County will be transitioning some of its resources from COVID-19 testing to expand mass vaccination efforts, beginning on Tuesday, January 26th. People seeking testing should be limited to those who are currently experiencing symptoms or who have had known exposure to COVID-19, in order to allow the transition from testing to vaccination.
As of January 26th, testing at the Skagit County Fairgrounds will be changed to the following schedule:
Tuesdays, Fridays, and Saturdays: 10 a.m. – 4 p.m.
Please note that both testing and vaccine will not be available on Monday, January 25th, as we transition to our new schedule of operation that begins on Tuesday, January 26th.  
For more information about Skagit County's COVID-19 vaccine roll-out, please visit our vaccine webpage at www.skagitcounty.net/COVIDvaccine. You can also call our new COVID-19 Vaccine Hotline at (360) 416-1500 Monday through Friday from 8:30 a.m. to 4:30 p.m.