Public Health
Director: Keith Higman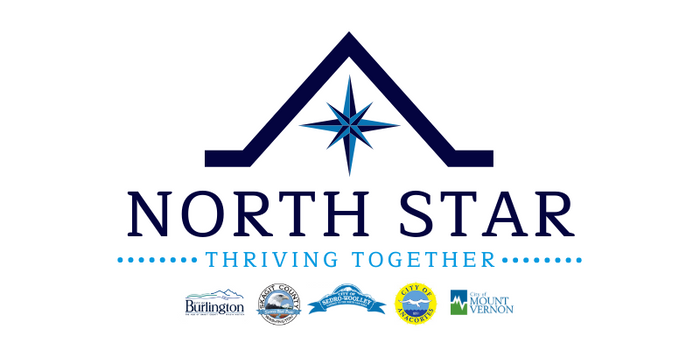 NORTH STAR:
MOVING FROM MANAGING COMMUNITY ISSUES TO SOLVING THEM
Addressing homelessness has been a priority for Skagit County for some time now. For years, more and more services and resources have been used to support a growing population of individuals experiencing homelessness and behavioral health issues.

For too long, we've tried to tackle the same problems in each of our jurisdictions, and too many of our community members continue to suffer. Our first responders and service providers are stretched thin. Our systems of care are fragmented, and people aren't getting the long-term care they need to thrive.

In July 2022, Skagit County Commissioners and the Mayors of Anacortes, Burlington, Mount Vernon, and Sedro-Woolley established North Star, joining forces to coordinate and share dollars, services, and people to create effective care and expand housing options for those experiencing chronic homelessness. We've grown from four cities and the county to include dozens of service providers, law enforcement, and others across the county, pooling resources, coordinating action, and streamlining our essential community services.

Instead of managing community issues, we're working together across jurisdictions to solve them. It's more effective. It costs less. It gets people the support and services they actually need, when they need it.

Our actions to coordinate crisis response, outreach and recovery services, and housing are part of our big vision for Skagit County: a thriving community for everyone.
OUR PROGRESS
North Star is a long-term effort. We're starting by creating more affordable housing and providing better care for those who are suffering the most.



Skagit County is a special place. We want it to be affordable for everyone to call home. As a first step, we've kicked off a county-wide effort to build more affordable housing by:

Jointly funding priority projects.
Using more housing vouchers.
Identifying more land and considering ways to streamline processes.
Improving Coordinated Entry to ensure that accessing housing is quicker and easier for those experiencing homelessness.

Community members suffering from chronic homelessness and behavioral health issues deserve the care they need to thrive. To accomplish this, we're creating a coordinated and aligned system that:

Allows first responders and health care professionals to coordinate and share information.
Effectively connects people to appropriate resources and services that support recovery, rather than jail or the emergency room.
JOIN US
Our actions around housing and coordinated care are part of our big vision for Skagit County: a thriving community for everyone.

You can be a part of this public-private partnership to improve the health of the full Skagit community. Stay informed about North Star by subscribing to email updates. For additional information, contact Keith Higman, Skagit County Public Health Director at khigman@co.skagit.wa.us or (360) 416-1500.
+ NORTH STAR RELATED NEWS
August 25, 2023
Skagit County making progress on mental health, addiction treatment facility
Skagit County's next big investment in mental health and addiction treatment will include space for 48 people seeking care.
May 19, 2023
Skagit County Releases Point-in-Time Count of People Experiencing Homelessness in 2023
Led by Community Action of Skagit County in partnership with Skagit County Public Health, many community partners, and dozens of volunteers.

April 26, 2023
70 New Homes for Our Most Vulnerable Neighbors: Martha's Place Opens Its Doors
Catholic Housing Services of Western Washington, the City of Mount Vernon, and Skagit County are excited to announce the grand opening of Martha's Place located at 1925 E. College Way in Mount Vernon.

March 16, 2023
Funding Secured for Upcoming Shortfall Faced by Skagit First Step Center
Leaders embraced the challenge to meet the needs of community members experiencing homelessness.

March 2, 2023
Homeless services facing a shortage of funding
For the past year and a half, the Skagit First Step Center has served as the county's only low-barrier homeless shelter, but now its future is uncertain.

January 12, 2023
Skagit County North Star Project Moves into Phase 2
Updates and plans for Phase 2.

September 19, 2023
Skagit County agrees to settlement with opioid distributors
The settlement is a great opportunity to fund a program that will come out of the county's North Star Project.

July 26, 2022
Skagit County North Star Project Call to Action Signed by Local Elected Officials
Signatories of the Call to Action acknowledge that government alone cannot solve the current crisis but recognize an obligation and an opportunity to lay a foundation for the systems change work that is necessary.

June 17, 2022
Speaker: Empathy, collaboration keys to better behavioral health care
A pioneer in mental health and substance abuse care called on Skagit County's care providers Thursday to adopt a more empathetic model.

June 14, 2022
City councils brought in on countywide homeless, behavioral health projects
Leaders in tackling the homeless and behavioral health crises in Skagit County asked members of the city councils within the county on Tuesday for their support in truly building a healthy community.

April 26, 2022
Skagit County looking for its 'North Star' on homelessness, behavioral health
Skagit County's elected officials, city leaders and community leaders have started to align their efforts on homelessness and behavioral health.

April 26, 2022
Skagit County Launches North Star Project to Address Behavioral Health and Homelessness
Skagit County has recently launched the North Star Project, a multi-phased whole-of-government effort to address behavioral health and homelessness challenges in our community.
RELATED DOCUMENTS
The Basics

Research