Human Services
Director: Jennifer Johnson




Skagit County's Opioid Crisis
A wide range of partners in Skagit County, including medical and treatment providers, social services, law enforcement, schools, families, public health and others have been working since July of 2016 to tackle this complex issue. Through the Opioid Workgroup Leadership team, MVHope and many individual agencies, Skagit County is working hard to solve the opioid crisis that affects us all.

What is Skagit County doing?
Making Opioid Overdose a Notifiable Condition

Overview of Proposed Ordinance
The ordinance requires that health care providers notify Skagit County Public Health of an opioid overdose within 72 hours of diagnosis.  Public Health will collect and evaluate the data which will help develop strategies and target interventions to areas of greatest need. 
On an individual level, confidential reporting of an individual overdose may include direct contact with the individual to offer resources.  While the landscape of the opioid epidemic and care is always changing, we aim to keep our follow-up plans flexible to adapt to the needs in the community.  Our goal is not to compete with existing care options but to augment them.  Some of this care may involve:
Providing access to naloxone
Educating as appropriate
Connecting to evidence-based treatment, if desired
Connecting to other support services
More information and request for comments
In January 2015, Skagit County formed the collaborative Skagit County Population Health Trust as a way to identify and prioritize community health needs. From that group came the countywide Opioid Workgroup Leadership Team, where local stakeholders identify and act on practical solutions to minimize opioid impacts to our community.
On March 7,2017 the Skagit County Board of Health endorsed the Opioid Workgroup Leadership Team Community-wide Action Plan and Call to Action
In January of 2018, Skagit County approved a Secure Medication Return ordinance requiring drug manufacturers to fund and operate a secure medication disposal program countywide. Providing more accessible medication return options reduces the risk of old or unused opioid medications falling into the wrong hands. This initiative is especially crucial in assuring youth do not have easy access to opioids.
Also in January 2018, the Skagit County Prosecuting Attorney, in partnership with the cities of Burlington, Mount Vernon and Sedro-Woolley, filed a lawsuit against pharmaceutical companies, alleging that their opioid prescribing practices have helped contribute to the opioid crisis in Skagit County.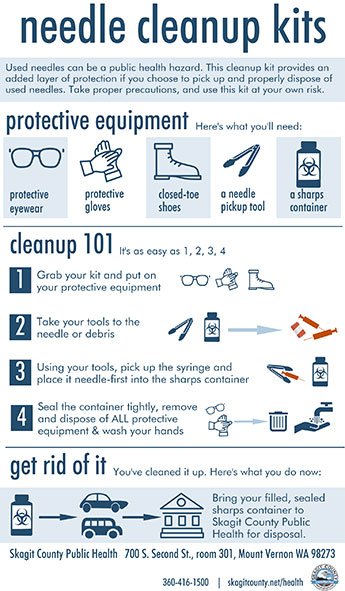 Needle cleanup kits
Starting in October 2018, Skagit County Public Health will dispense as many as 100 needle pickup kits at its downtown offices, 700 S. Second Street, Mount Vernon. Kits include safety glasses, gloves, a needle pickup tool and a sharps container. Interested individuals can come by and pick up a kit free of charge. When the sharps container is full, they can return the kit to Public Health for disposal.

RISE Needle Exchange Program Saves Lives
The RISE Program, a service of Phoenix Recovery Services that is funded by Skagit County, is a mobile needle exchange program that offers 1:1 needle exchange, education and referral, and no-cost Narcan kits in multiple locations throughout Skagit County.
Needle exchange programs are critical in preventing the spread of HIV and Hepatitis C while engaging people in health intervention and referral to treatment services. The RISE program also helps reduce the amount of contaminated needles in the public waste system.


Opioid Overdose and Naloxone

Opioid overdose is life-threatening and requires immediate emergency attention. Recognizing the signs of opioid overdose is essential to saving lives. Naloxone is a medication approved by the Food and Drug Administration (FDA) to prevent overdose by opioids such as heroin, morphine, and oxycodone. It blocks opioid receptor sites, reversing the toxic effects of the overdose. Naloxone is administered when a patient is showing signs of opioid overdose.
The RISE Program began distributing naloxone kits in 2016. "Lives Saved" numbers are reported from the RISE Program and do not include statistics from other service providers such as EMS, and other local law enforcement agencies.
Related:

Treatment Resources [pdf]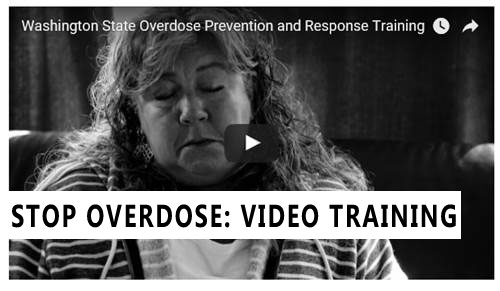 This 8-minute video covers overdose risks, the WA State Good Samaritan Law,
and a step-by-step demonstration of what to do in an opioid overdose
(including rescue breathing and intranasal naloxone)