Fire Marshal

Outdoor Burning
While we currently have no burn restrictions, we ask that everyone be safe with any recreational outdoor fires during this upcoming holiday.
Fire must be in an enclosure that is a minimum of 16 inches high, no wider than three feet
across, and made of cement block, stones, or #10-gauge steel.
Burned material must be kept lower than the sidewalls of the enclosure.
The following must be always in the immediate vicinity of the enclosure and present during
burning: A charged garden hose; two, five-gallon buckets of water; or a five-gallon Class-A fire
extinguisher and a shovel.
Fires must be 25 feet from any standing timber or combustibles and there must be no tree
branches within 15 feet above the enclosure.
There must be at least one person 16 years of age or older, in attendance always, who can extinguish the fire.
If you are within the city limits of any of the incorporated cities or towns, check with your city fire department for current burning restrictions. If you are camping or recreating on US Forest Service or State DNR-owned properties, contact them for the current burn regulations.
Please burn responsibly. Remember smoke, odor, or ash that unreasonably interferes with the use and enjoyment of neighboring properties is prohibited.
Avoid Unnecessary Burning
So before starting an outdoor burn of any type, please consider the potential impacts on
your neighbors and on local emergency responders, and postpone or cancel your burn if
possible.

Also, avoid causing excessive smoke from wood-burning stoves used for home heating. The
Northwest Clean Air Agency has received a number of complaints about heavy woodstove
smoke.
---
Illegal Burning
Only natural vegetation (leaves, grass and tree trimmings) may be burned. It is never legal to burn any of thefollowing:
garbage
household trash

lumber

building construction waste

demolition debris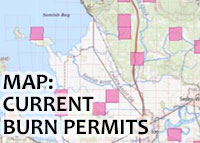 Permitted Burning
When a burn ban is not in effect, in unincorporated Skagit County (outside of urban growth areas), you may burn a pile four feet by four feet (or smaller) of natural vegetation without a permit. A burn permit from the Skagit County FireMarshal is required if you plan to burn a larger pile. Applicants can leave a message for the Deputy Fire Marshal at (360) 416-1840. The Fire Marshal will visit the site and issue a burn permit to eligible locations in the order they are received. A nominal fee consistent with the fee schedule is required.

Recycle Instead of Burning
Drop off your recyclables at any of the three Skagit County transfer stations, or visit www.skagitcounty.net/recycle for more information about other ways to recycle your waste.
Compost Your Yard Waste
An eco-friendly alternative to burning your yard waste is to drop it off for composting at these locations:
North Hill Resources
651 North Hill Boulevard
Burlington, WA 98233
360-757-1866

Skagit Soils Inc,
13260 Ball Road
Mount Vernon
360-424-0199

Sunland Bark & Topsoils
12469 Reservation Road
Anacortes
360-293-7188
Recycle Your Construction Debris
Many types of construction waste (wood, concrete, drywall, asphalt, roofing, metals), can be recycled at these locations. Check each facility for the types of debris it accepts.
Lautenbach Industries / T&T Industries/Lauts Inc
13084 Ball Road
Mount Vernon
360-757-4000

North Hill Resources
651 North Hill Boulevard
Burlington, WA 98233
360-757-1866