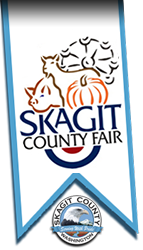 Skagit County Fair
August 7-10, 2019

Thank you to our supporters!

Another season of activity is well underway at our treasured Fairgrounds. Things kicked off this spring with the SICBA Home and Garden Show, March 22nd–24th. April 12th & 13th saw the Fairgrounds hosting our very own 27th Annual Spring Garage Sale, Antiques & More Event. We will also be hosting our Fall Garage Sale in 2019, September 20-21. These garage sale events have more than 150 vendors, food, and live music! Over 6,000 people enjoy each Garage Sale.

The 2018 Fair saw many successes, and we are confident this momentum will carry into the 2019 Fair. We will be "Bringing Ewe Shear Entertainment" at the 2019 Skagit County Fair, which will take place August 7th-10th. The Fair is symbolic of our Skagit County pride, and has been a summer highlight in the valley for over 100 years!

If tradition alone could insure the future, then we would have nothing to worry about. The past holds many treasures, it holds the spirit of what we celebrate as residents of this incredible place. It is our philosophy, that we need to turn to the people of Skagit County to ask for local ideas, talent and support. We believe that boosting the participation of Skagit County residents will result in a fun and suc-cessful Fair in 2019 and beyond.

We realize that we are asking for a great deal when we ask for the financial/in-kind support of our sponsors. We respect and value this generosity and want our sponsorship program to offer something of value in return.

The Skagit County Fairgrounds is a unique resource, and the Fair is our showcase of Skagit pride. We hope that you share our belief that this is a tradition worth sustaining, and hope that you are able to participate in our sponsorship program.

---

Thanks to our Sponsors!