Planning and Development Services
Director: Hal Hart
Envision Skagit Citizen Committee's Final Report and Recommendations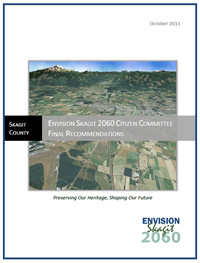 The Envision Skagit Citizen Committee's final report and recommendations, released in October 2011, are now under consideration by Skagit County and other jurisdictions for possible implementation.

Final Report and Recommendations[Pdf]
The Citizen Committee, which met from September 2010 through June 2011, consisted of 12 citizen volunteers who were selected from a larger pool of applicants by a committee of county commissioners and city and town mayors. During the time that they met, one of their primary tasks was to listen to the community.
In addition to meeting with local, regional, and national experts, the Citizen Committee hosted community meetings in Edison, Anacortes, La Connor, Concrete, Mount Vernon, Sedro-Woolley, and Burlington. They held additional listening sessions with specific groups, including the agricultural community, the Latino and Spanish-speaking community, and youth from local schools. The committee also received comments through the project website and from presentations to a wide variety of service and interest groups. In total the committee heard from well over 400 residents.
"The Envision Skagit Citizen Committee has developed this vision and set of recommendations for what we believe today's Skagit County residents want Skagit County to be like in 2060 - and what we should do now to help bring that about," says the reports executive summary.
"While our work as a formal committee has ended…that is far from the end of the larger Envision Skagit process. Before any law or significant government policy can be changed, we encourage elected officials to hold public listening sessions to take further public comment. A 50-year plan takes time to implement."
"The conversation is just starting. It is the people of Skagit County that will make this happen. Please speak up and make your voice heard."
The Citizen Committee's report is available at the following libraries: Anacortes, Burlington, Concrete, La Conner, Mount Vernon, and Sedro-Woolley, and at the Skagit County Up River Services office. The report is also available on disk, at no charge, by contacting Linda Christensen at lindac@co.skagit.wa.us, or (360) 416-1320, ext. 7620.