Emergency Medical Services
Director: Josh Pelonio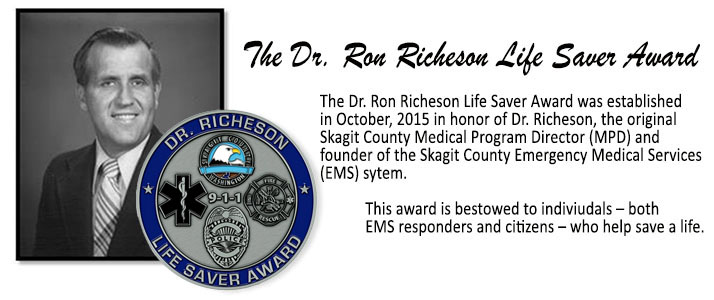 Award recipients:
---
Katelynn Mathias
Sabrinna Frank
Elizabeth Hillaire
Jerry Gardner
Ryan Tesarik
Shannon Moore
Angela Ochs
Jobina Moran
Pat Huggins
Rogene Seidel
Gavin Grant
Vicki Royal
Laurie Fellers
Sedro-Woolley High School Students and Staff

On February 4, 2020, a teacher at Sedro-Woolley High School collapsed from sudden cardiac arrest. Students and staff worked together to facilitate calling 911, activating the schools "code blue" response team, performing CPR, and using an automated external defibrillator (AED). One shock was delivered from the AED resulting in return of spontaneous circulation and the teacher was transported to the hospital by EMTs and Paramedics from the Sedro-Woolley Fire Department.
---
Gary Ladd
Richard Shrauner
Dalton Mitchell
Bryce Mazza
Ryan Hiller
Andrew Lester
Skagit County Fire District #13 Firefighter / EMTs
On the evening of September 27, 2015, Fire District #13 personnel responded to a CPR call. Upon their arrival the first responders found fellow FD#13 EMT Gary Ladd providing CPR to the patient – his wife Lucinda. Gary and the rest of the FD#13 volunteers continued CPR and shocked Lucinda a total of three times with an AED, after which she had a return of spontaneous circulation, and was transported to Skagit Valley Hospital by paramedics from Anacortes Fire Department. 
---
Brian Jackson
Joshua Murdock
Bev Riesland
Terry Ringhouse
Skagit County Fire District #16 – Day Creek

On September 6, 2015 Donna Pulver thought her husband Mike might be having a heart attack. She called 9-1-1 and when the volunteer firefighters and EMTs from Fire District #16 arrived Mike was conscious and in severe pain. Shortly thereafter Mike became unconscious and unresponsive. FD#16's crew immediately initiated CPR and applied an AED, delivering a shock which restarted Mike's heart. Paramedics arrived soon after and transported Mike to hospital.
---
Kellan Herndon
Skagit County Fire District #13
On October 25, 2014 while participating in a half-marathon in Vancouver, British Columbia Kellan came upon a runner in his mid-thirties who had collapsed and gone into cardiac arrest. Kellan, along with two other bystanders, immediately began providing CPR. The patient was successfully revived and transported to the hospital.
---
Dr. Ron Richeson
Original Skagit County Medical Program Director and Founder of Skagit County Emergency Medical Services System
Accepted on behalf of Dr. Richeson by his family