Emergency Medical Services
Interim Director/Training Coordinator: Josh Pelonio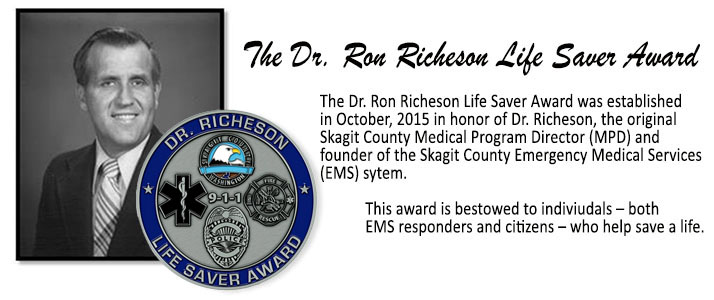 Award recipients:
---
Gary Ladd
Richard Shrauner
Dalton Mitchell
Bryce Mazza
Ryan Hiller
Andrew Lester
Skagit County Fire District #13 Firefighter / EMTs
On the evening of September 27, 2015, Fire District #13 personnel responded to a CPR call. Upon their arrival the first responders found fellow FD#13 EMT Gary Ladd providing CPR to the patient – his wife Lucinda. Gary and the rest of the FD#13 volunteers continued CPR and shocked Lucinda a total of three times with an AED, after which she had a return of spontaneous circulation, and was transported to Skagit Valley Hospital by paramedics from Anacortes Fire Department. 
---
Brian Jackson
Joshua Murdock
Bev Riesland
Terry Ringhouse
Skagit County Fire District #16 – Day Creek

On September 6, 2015 Donna Pulver thought her husband Mike might be having a heart attack. She called 9-1-1 and when the volunteer firefighters and EMTs from Fire District #16 arrived Mike was conscious and in severe pain. Shortly thereafter Mike became unconscious and unresponsive. FD#16's crew immediately initiated CPR and applied an AED, delivering a shock which restarted Mike's heart. Paramedics arrived soon after and transported Mike to hospital.
---
Kellan Herndon
Skagit County Fire District #13
On October 25, 2014 while participating in a half-marathon in Vancouver, British Columbia Kellan came upon a runner in his mid-thirties who had collapsed and gone into cardiac arrest. Kellan, along with two other bystanders, immediately began providing CPR. The patient was successfully revived and transported to the hospital.
---
Dr. Ron Richeson
Original Skagit County Medical Program Director and Founder of Skagit County Emergency Medical Services System
Accepted on behalf of Dr. Richeson by his family