Emergency Medical Services
Director: Jeff Sargent
Skagit Automatic External Defibrillator (AED) Registry

Automated external defibrillators (AEDs) don't work if you can't find them. Registering an AED helps 911 dispatchers match the location of a sudden cardiac arrest (SCA) victim with the nearest AED. It also allows the dispatcher to alert emergency teams that an AED is onsite. The Skagit AED registry is a free service to all AED owners within Skagit County. The registry will:
Show 9-1-1 dispatchers the nearest location of an AED in the event of a cardiac arrest.
Provide reminders to AED owners 30 days before pads and batteries expire to ensure that AEDs are always ready when needed.
HOW TO REGISTER YOUR AED
To enter an AED into the registry, please complete the FORM and send it to :
Via email (recommended):

Via postal service:

EMS Department,
2911 E. College Way, Suite C,
Mount Vernon, WA 98273
Here's what you'll need to complete the form:
AED make, model and serial number
Location description
Onsite contact person
If you have any questions about registering, please contact the Community AED Program Coordinator.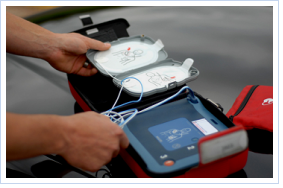 Why communities need AEDs
Sudden cardiac arrest (SCA) describes a condition in which the heart unexpectedly stops beating, halting blood flow to the brain and other organs. This can happen anytime, anywhere, to anyone and will likely result in death if not treated within minutes by an AED. In fact, every year, more than 300,000 adult Americans die from sudden cardiac arrest. An AED is a simple and important way to be prepared and increase safety in your local community.
Related information: