Planning and Development Services
Lake Erie Pit LLC Gravel Mine Expansion Near Rosario Road
Special Use Permit Application PL16-0556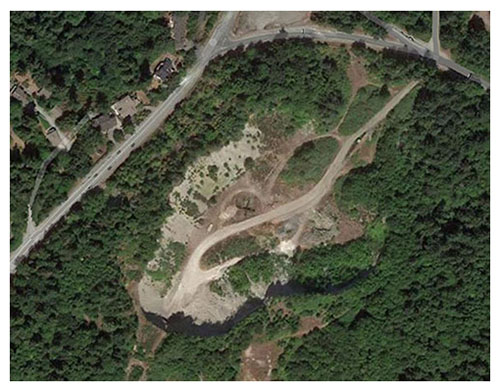 Lake Erie Pit LLC has proposed to expand its gravel mine operation near Rosairo Road. The existing 17.78 acre gravel mining operation is proposed to expand to the south. Increasing the surface area of the mine to a total of 53.5 acres. Gravel will continue to be processed onsite, removed by truck/trailer and transported to market.

Depending on market demand, gravel mining production may increase to 60,000 tons per year for an anticipated 60 years. The site is accessed from Rosario Road on an existing private gravel driveway. The subject site is located within the Rural Resource-Natural Resource Land zoning designation and within the mineral resource overlay. The project description, SEPA checklist, traffic studies, hydrogeologic and critical areas site assessments are provided below. The public hearing for the application occurred on August 26th and was continued by the Hearing Examiner. Another public comment period and hearing before the Hearing Examiner will follow.

The hearing will be reconvened on Wednesday, October 14, 2020, in the hearing session beginning at 10 a.m. Unless current restrictions have been relaxed, the renewed hearing will again be heard by telephone. Those wishing to speak shall contact the Hearing Examiner's Office via phone at (360) 416-1740 or via email at skivi@co.skagit.wa.us before 4:00 p.m. on Tuesday, October 13, 2020.
Submit comments via our webform.
Unless otherwise specified, dates in parenthesis represent the document's own date, not the Department's date of receipt. (January 18, 2023)
Lake Erie's Gravel Mine Special Use Permit Application PL16-0556, Geologic-Hazard Site Assessment Third Party Review
Geo Hazard Site Assessment (August 12, 2022)
Hearing Examiner Decision (October 15, 2021)
Skagit County Response (October 6, 2021)
Taylor Affidavit Lake Erie Pit 1 LLC (September 22, 2021)
PL21-0421-Order Denying Evergreen Island's Intervention (September 13, 2021)
PL21-0421 Prehearing Order (September 8, 2021)
Lake Erie Mine Appeal PL21-0421 Response to Motion to Intervene (September 7, 2021)
Canyon GeoHazard Services Scoping Timeline (September 7, 2021)


Applicant's Appeal of Decision (August 3, 2021)

Notice of Decision (July 28, 2021)


Hearing Examiner Decision, PL16-0556 (November 30, 2020)
Evergreen Island Notice of Appeal to Hearing Examiner Decision, PL16-0556 (November 30, 2020)


Public Comments
Hearing Examiner: Lake Erie pit continuance PL16-0556 (August 31, 2020)
SEPA threshold determination (December 3, 2019)
Lake Erie Pit Well Reconnaissance Report (March 11, 2019)
Observation well report (September 28, 2017)
SEPA Checklist (June 8, 2017)
Critical areas Reconnaissance (February 24, 2017)
Lake Erie Gravel pit Traffic Impact Analysis (December 2, 2016)
Hydrogeologic site assessment (September 28, 2016)
Lake Erie Pit Expansion Noise Study (September 16, 2016)
Lake Erie Pit Air Quality best management practices recommendations (September 15, 2016)
For more information, contact:

Kevin Cricchio, AICP, ISA
Senior Planner
kcricchio@co.skagit.wa.us