Planning and Development Services
Planning & Land Use Legislation Ordinance

The Board of County Commissioners has requested an ordinance to make several changes to the Planning Commission and the legislative process for land use plans and regulations.
Proposal
Ordinance Drafts
Public comment draft (August 13, 2013)

Draft incorporating Board direction and public participation measures (August 9, 2013)

Draft revision incorporating PC and public comments (February 26, 2013)

Strikethrough

(PC revisions in red; revisions from current code in purple)

Clean copy

(PC revisions in red; revisions from current code not shown)
Public Comment Draft (January 10, 2013)

Public Participation
How to Participate and Comment
The ordinance itself is not a land use plan or development regulation, so the process for adoption is a bit different from that for other land use proposals. The Board will announce public comment periods or public hearings, which will appear on this page and be distributed via e-mail list. Commenters should follow the process in any announced public comment opportunities to ensure their comments are included in the record.
Process Timeline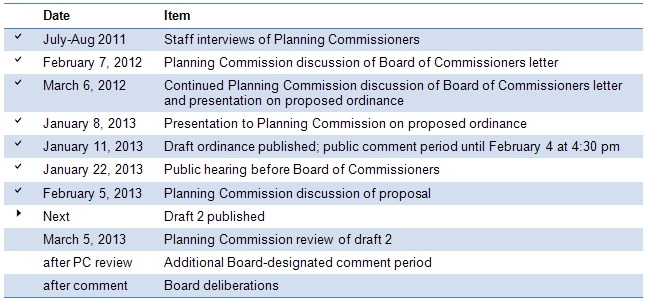 Received Comments

Contact Us
Dale Pernula, AICP, Director
Skagit County Planning & Development Services
(360) 416-1320 ext. 5818
dalep@co.skagit.wa.us