Planning and Development Services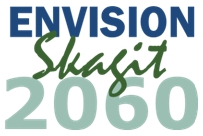 About Envision Skagit 2060

The Envision Skagit 2060 project seeks to develop and implement a broadly-supported, 50-year plan to protect the Skagit and Samish River watersheds' many environmental values, maintain our highly productive natural resource industries, and accommodate population growth in livable, walkable, and economically vibrant communities. The project is a partnership among Skagit County and numerous local and regional organizations, including conservation groups, tribes, local farmers and foresters, cities, economic development interests and universities. The effort is funded with a grant from the Environmental Protection Agency with substantial in-kind contributions from Skagit County and its partners. The project will ultimately recommend changes to the County's and other jurisdictions' comprehensive plans and policies addressing land use planning, community and economic development, environmental protection and natural resource conservation.
Committee Structure
The project involves several committees:

Steering Committee. Advises Skagit County on overall project direction and key strategic decisions; assists outreach to key stakeholder groups. Membership: citizen and staff leaders of stakeholder groups.
Citizens Committee. Responsible for developing the preferred alternative to be recommended by the project. Membership: citizens and representatives of stakeholder groups.

Technical Committees (Growth Management; Agriculture; Forestry; Ecosystem). Coordinate and perform technical work in support of the project. Membership: staff leading different aspects of the technical analysis.