Surface Water Management
Public Works
Skagit County Monitoring Program
Select a site location on the map or use the table below to view the Field and Lab data recorded for that location
Please note that this data is in the MS Excel .xls file format.
Air and water temperature data for all sites is available for download here.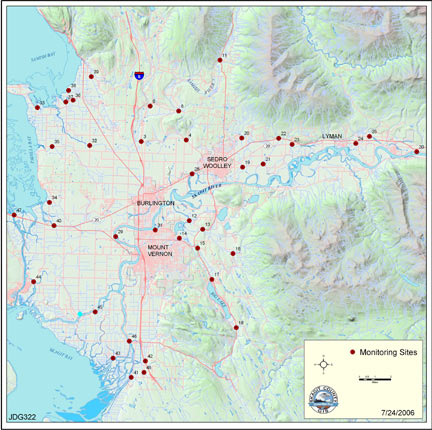 Sample site locations for Skagit County Monitoring Program

NOTE: Current project has 40 sites total. Site numbers 1-27 were previously assigned to the Skagit County Baseline Monitoring Project (2001-2003). Baseline sites included in this project maintain their Baseline site numbers. Missing numbers represent Baseline sites not included in this project, but which need to maintain their site number identity in the monitoring database.

Site Number

Stream Name
Road Name
Thomas Creek
Old Hwy 99 North
Thomas Creek
F&S Grade
Friday Creek
Prairie Road
Swede Creek
Grip Road
Samish River
State Route 9
Nookachamps Creek
Swan Road
East Fork Nookachamps Creek
State Route 9
College Way Creek
College Way
Nookachamps Creek
Knapp Road
East Fork Nookachamps Creek
Beaver Lake Road
Nookachamps Creek
Big Lake Outlet
Lake Creek
State Route 9
Hansen Creek
Hoehn Road
Hansen Creek
Northern State
Coal Creek
Hoehn Road
Coal Creek
Hwy 20
Wiseman Creek
Minkler Road
Mannser Creek
Lyman Hamilton Highway
Red Cabin Creek
Hamilton Cemetery Road
Brickyard Creek
Hwy 20
Skagit River
River Bend Road
Skagit River
Cape Horn Road
Drainage district 20 near floodgate
Francis Road
Samish River
Thomas Road
Alice Bay Pump Station
Samish Island Road
Noname Slough
Bayview-Edison Road
Joe Leary Slough
D'Arcy Road
Edison Slough at school
W. Bow Hill Road
Edison Drainage ditch in Edison
Farm to Market Road
Drainage north of Edison
North Edison Rd
Colony Creek
Colony Road
Big Indian Slough
Hwy 20 Truck Scales
Maddox Slough/Big Ditch
Milltown Road
Hill Ditch
Cedardale Road
Wiley Slough
Wylie Road
Sullivan Slough
La Conner-Whitney Road
Skagit River – North Fork
Moore Road
Skagit River – South Fork
Fir Island Road
Swinomish Channel
County Boat Launch
Fisher Creek
Franklin Rd
Temperature data is collected by datalogger during the summer months. Water temperature dataloggers are placed in the stream and record the stream temperature every 1/2 hour. Air temperature dataloggers are placed in shaded areas nearby.
Please note: The following files are in MS Excel file format and are 5 MB in size.
2007
2006