Surface Water Management
Public Works
DRAINAGE UTILITY
Skagit County's drainage problems are interrelated and ongoing. Often, the source of a drainage problem is from surface water or runoff that has traveled from other parts of the County.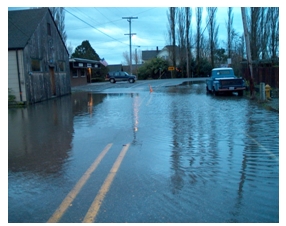 Managing our stormwater and drainage problems can be very expensive, particularly if it involves capital facility improvements. Long-term solutions are often too costly for individual drainage districts or property owners to bear alone and are unfair, many say, because surface water from other parts of the County can contribute to localized problems. In addition, one problem cannot always be solved without creating other drainage concerns - nearby or many miles away. The Drainage Utility is a solution that addresses everyone's needs and shares the costs in an equitable manner.

What kinds of projects are funded by the Drainage Utility?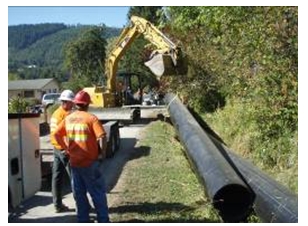 Many water-related projects, including construction and maintenance of pump stations, piping, tide gates, and ditching systems are eligible for Drainage Utility funding. Other eligible projects may deal with increased stormwater runoff from developed areas and the impacts of the increased runoff.
Additional information on the Drainage Utility can be found at the following links:

The County already does many drainage projects. Why do we need a Utility?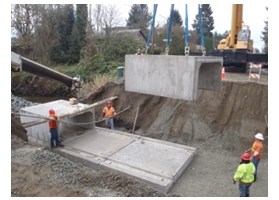 Before the start of the Drainage Utility, most of the drainage projects done by the County were road-related. Since the only source of funding for drainage projects was County Road Funds, drainage work was limited to projects that are related to roadside drainage. This meant that for every project the County performed, there were dozens that could not be done. The Drainage Utility allows the County to address drainage issues unrelated to road drainage, and retains road funds to be used for roadway improvement projects.
Will the Drainage Utility address all drainage problems in the County?
When drainage or stormwater problems are identified or reported, all will be evaluated and prioritized to ensure that the most urgent needs are dealt with in an expedient manner. Given the large number of problems identified and the fixed financial resources, correction of some of the lower priority problems may not be undertaken, but the County reviews and assesses every problem reported.
Are there limitations to the types of projects that the Drainage Utility can construct?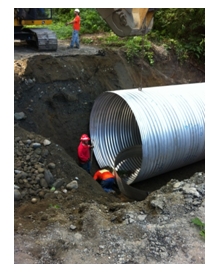 State law mandates that funds collected by the Drainage Utility can only be spent on facilities to correct drainage concerns. The funds can not be spent on any other type of project. The Drainage Utility does not address water quality-related problems or habitat restoration projects, except within the context of a specific Drainage Utility project. For example, if replacement of a culvert under a road is required to resolve drainage problems, it is acceptable to replace the culvert with one that allows fish passage. However, if the sole reason to replace a culvert is to allow fish passage, Drainage Utility funds can not be spent on the project. Also, Drainage Utility funds cannot be transferred to any other fund, such as County General Fund.
What areas does the Drainage Utility serve, and how much does it cost?
The Drainage Utility encompasses all areas within Skagit County except for those areas that have established service boundaries of their own. These include existing drainage districts, incorporated cities and towns, federal and reservation lands, and commercial timber lands. While the Drainage Utility funds are restricted to the Drainage Utility service area, the Drainage Utility cooperates with drainage districts, state agencies, and tribes to work together on projects of common interest and joint benefit.
The Drainage Utility rates for various property classes are as follows: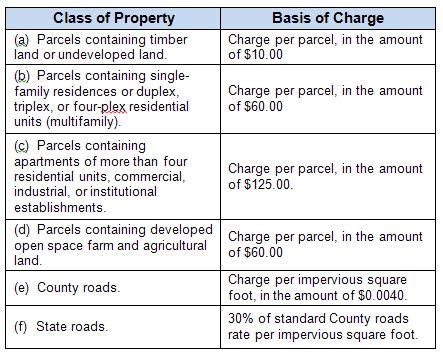 In addition, the Drainage Utility seeks state and federal grants to leverage our local dollar. Skagit County's Drainage Utility rates compare favorably with other communities: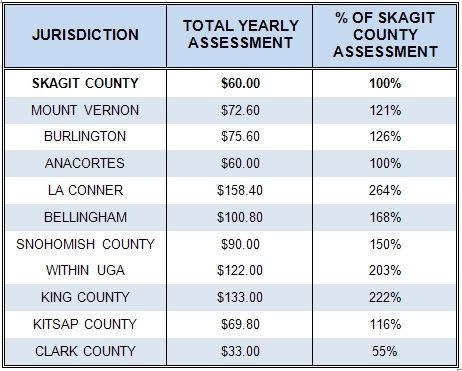 Who do I contact to learn more about the Drainage Utility or to file a drainage complaint?

The person you should contact depends on the location of the drainage concern.
View a map showing the locations of drainage districts, and incorporated cities and towns, here.
If your drainage concern lies within a drainage district, please contact the appropriate drainage district commissioner. A current list of the drainage district commissioners may be viewed here.

If you have a general question about the Drainage Utility, please contact:
Kara Symonds
Watershed Planner
Skagit County Public Works
(360) 416-1447
Skagit County Public Works
1800 Continental Place
Mount Vernon, WA 98273
(360) 416-1400