Surface Water Management
Public Works
LAKES ERIE & LAKE CAMPBELL (LMD #3)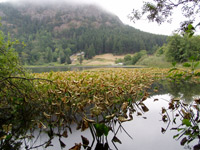 Lakes Erie & Campbell are shallow, nutrient rich lakes clustered on Fidalgo Island, approximately 3-miles south of Anacortes. Lake Erie is the smaller of the two lakes, totaling 113-acres with a maximum depth of 12-feet. Lake Campbell totals 367-acres in area and reaches a maximum depth of 16-feet. Both lakes have a long history of water quality problems, including algae blooms, fish kills, and related odors.
To address the problems associated with excessive algae growth in the lakes, 573 dry tons of aluminum sulfate (alum) was applied to both lakes. Aquatic plants became more problematic over time and the community began a program of mechanical harvesting in 1986. Eurasian watermilfoil (Myriophyllum spicatum) was first observed in Lake Campbell in 2001 and likely spread toLake Erie within a short time frame.
Lake Management District No. 3 (LMD 3) was formed in 2001 after the majority of waterfront property owners voted to pay a special assessment for the management of aquatic weeds. The primary goal of the District was to eradicate the invasive Eurasian Milfoil (Myriophyllum spicatum L.) using the methods identified in the Integrated Aquatic Plant Management Plan (IAPMP) for Lakes Erie/Campbell.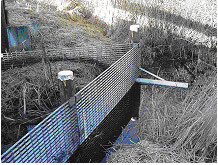 The IAPMP identifies a two-pronged strategy that includes herbicide treatments for initial removal and grass carp stocking to maintain lower aquatic plant densities for long-term control. In 2002 Lake Campbell was treated with the aquatic herbicide 2-4D resulting in the eradication of Eurasian Milfoil. Eurasian Milfoil was eradicated from Lake Erie as the result of a whole-lake aquatic herbicide treatment using Sonar. However, this invasive species became re-established in both lakes. In addition, the native aquatic plant population became problematic around docks and swimming areas at Lake Erie.
Both Lakes Erie and Campbell were stocked with triploid grass carp in 2003, 2006, and 2009. The District was recently reformed for another 10 years (2011-2021). The District plans to continue surveying and mapping the lakes annually to monitor invasive aquatic plants. Herbicide treatments will also be applied annually as needed to control the invasive and nuisance aquatic plants. Carp will be stocked in both lakes as needed and as allowed by the permit.
Lake Erie and Lake Campbell Reports [Pdf]:
2002 | 2003 | 2004 | 2005 | 2006 | 2007 | 2008 | 2009 | 2010 | 2011 | 2012 | 2013 | 2014 | 2015 | 2016
For more information regarding lake activities at Lakes Erie & Lake Campbell
Contact Tracy Alker (360) 416-1400