Parks and Recreation
Director: Brian Adams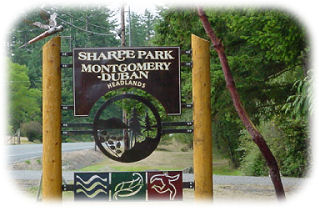 ---
Donated by Kathleen Sharpe

"Dedicated to the memory of my beloved husband, Wallace J. Sharpe,
and his father, Thomas J. Sharpe, who were the settlers on this property.
It is my desire that for all time this property shall provide a respite for
mankind's body and soul to reflect upon the beauty of God's creation"

Deeded July 26,1977
---
Click on the thumbnails above to display the full size photos of the new sign for Sharpe Park / Montgomery-Duban Headlands installed 8/19/05. This sign was designed by Cheryl Boxx, Park Maintenance Worker.

Sharpe Park & Montgomery-Duban Headlands Pics

Location

Address: 14692 Rosario Rd., Anacortes
Imap it!
Navigate Using Mobile App

From Interstate 5 at Burlington, take Exit 230 and head west on Highway 20. After 12 miles, cross the bridge to Fidalgo Island, and in a few more miles, turn left at Sharpe's Corner to follow Highway 20 south toward Whidbey Island. After driving by Pass Lake, turn right on Rosario Road, and the park is on the left in 1.7 miles.

Policies

Day use only.

Alcoholic beverages and glass containers prohibited.

Pack it in, pack it out.

Dogs must be on leash.

No open fires or fireworks.