Parks and Recreation
Director: Brian Adams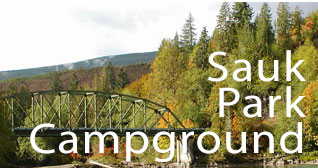 Sauk Campground is open for camping between March 1st through October 31st.
Between November 1st-February 28th, Sauk is open for camping for self-contained units only.
This is subject to earlier openings and later closings as weather conditions allow. Please call Howard Miller Steelhead Park Staff at 360-853-8808 for any and all updates.
Sauk Campground does not offer individual reservations.
Skagit County Parks and Recreation Department maintains this park on the Sauk River.
Sauk Campground
Location

Address: 54569 Concrete-Sauk Valley Rd.,Concrete
Imap it! Navigate Using Mobile App

Policies

Camp in designated sites only.

Self-Pay camp fee $10.00/night.

Maximum of 14 days.

Quiet time 10:00 PM - 8:00 AM.

Dogs must be on leash.