Surface Water Management
Public Works
CONSERVATION RESERVE ENHANCEMENT PROGRAM (CREP)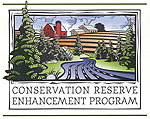 Skagit County currently has about 60 acres of stream-side habitat enrolled in the CREP program at three locations: Day and Etach Creeks and Martin Slough. Each site has a planting and maintenance program that is approved by the Skagit Conservation District (SCD) and the Farm Services Agency (FSA). For all work conducted, expenses are initially paid by the landowner and are reimbursed by SCD and FSA. The project is complete when the riparian buffer has been established and the project has SCD and FSA approval. At that point, the landowner moves into the maintenance phase of the project.
Maintenance costs are reimbursed for five years after the buffer has been established. Maintenance plans that describe approved maintenance tasks and associated costs are developed for the spring and fall every year for fives years by the SCD and agreed upon by the landowner. The State provides 100% reimbursement for all expenses approved by the maintenance plan. At the end of the 5-year maintenance period, it is the landowner's responsibility to absorb any maintenance costs incurred.
Day Creek: The Day Creek site encompasses 0.8 acres of buffer along the Skagit River near the South Lyman-Ferry Road. The lineal feet of river that is included in this buffer is 195 feet and the buffer width is 180 feet. This site is currently in the maintenance-phase.
Etach Creek: The Etach Creek site covers 2.3 acres along Etach Creek (Jim's Slough) on Cockreham Island. The lineal feet of steam that is included in this buffer is 566 feet and the width is 180 feet.

Martin Slough: The Martin Slough site encompasses 22.8 acres along the Skagit River and Martin Slough near Rockport. The lineal feet of stream bank that is included in this buffer is 5600 feet and the buffer widths are 180 feet.

Interested in enrolling in the CREP program? Learn more or contact the Skagit County USDA office.