Public Works Engineering
County Engineer: Paul A. Randall-Grutter P.E.
Engineering Division Manager: Keith Elefson, P.E.
COMMON WAYS WATER ERODES SOIL
Raindrop Erosion: Raindrop erosion is caused by the direct impact of falling drops of rain dislodging soil particles which are then easily transported by runoff.
Sheet Erosion: Sheet erosion is the removal of surface soil by the action of raindrop splash and runoff as water moves in broad sheets over the land.
Rill and Gully Erosion: Rill and gully erosion occur when runoff concentrates in rivulets and creates grooves, called rills, in the soil surface.

With sufficient water flow, rills may develop into gullies.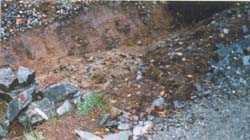 Rill and Gully Erosion