Skagit County Board of Health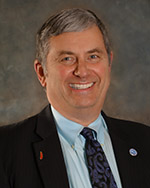 Ron Wesen
District 1
Commissioner Wesen was first elected to the Board of County Commissioners in 2008. He is a fourth generation dairy farmer and businessperson. His family continues to operate an organic centennial dairy farm in the Bow- Edison area.

Commissioner Wesen brings an agricultural perspective to the board. He has served as President of both the Burlington-Edison School District Vocational Advisory Committee and the Ag Vocational Advisors Committee. He has also served as part of the BESD Facilities Evaluation Committee for the district.

Commissioner Wesen met his spouse Jan while in college. They have been happily married for 39 years.