Skagit County Sheriff
"Committed To Your Safety"
MEET WITH A DEPUTY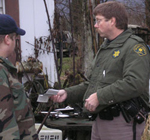 The Skagit County Sheriff's Office and our deputies are always happy to meet with our citizens on a one on one basis or in a group setting to offer personal safety tips, answer your questions, and address your concerns. We offer group presentations on personal safety and will help you with a home or business inspection to minimize your exposure to criminal activity.
To request contact from a deputy to schedule a meeting time and location please complete the following form:
If you are interested in meeting with a deputy you can also conact the Sheriff's Office by email at sheriff@co.skagit.wa.us, by phone at (360)416-1911, or in person at 600 South Third Street in Mount Veron WA 98273. We will have a deputy contact you with more information.