Skagit County, Washington

January 5, 2018
Flu isn't funny
For some individuals, the flu can be a serious illness that may lead to hospitalization, and possibly death.
Get vaccinated if you are, or are around people who…

are 65 years and older,
have chronic medical conditions (e.g. asthma, diabetes, or heart disease),
are pregnant women, or
are young children

Help protect these high risk persons, they could be you.
Flu vaccine information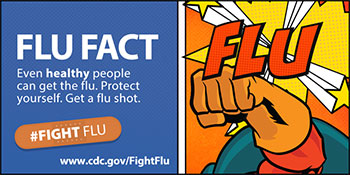 You may have heard that this year's flu vaccine may be less effective against some strains of the virus than others, but you should still get a flu shot. It is especially important to protect those around you, like children, pregnant women, the elderly and those with certain chronic medical conditions. There is evidence to suggest that a flu shot may lessen your symptoms if you do become ill. Always stay home if you are sick, wash your hands often, and cover your cough and sneezes. Be especially vigilant in this season of holiday gatherings.
How to FIGHT the FLU:
COVER your cough and sneezes
CLEAN: Wash your hands often
CONTAIN: Stay home if you are sick, and stay away from others that are sick
PREVENT: Get vaccinated before you or others around you get sick
No one is superhuman when it comes to the flu. Anyone can get it (even healthy people).
Help prevent the spread, get vaccinated; especially if you are or are around high risk individuals:

65 years and older
certain chronic medical conditions (such as asthma, diabetes, or heart disease)
pregnant women
young children