Public Health
Director: Keith Higman
A whole-of-government approach to tackling homelessness and
behavioral health challenges in Skagit County

NORTH STAR PROJECT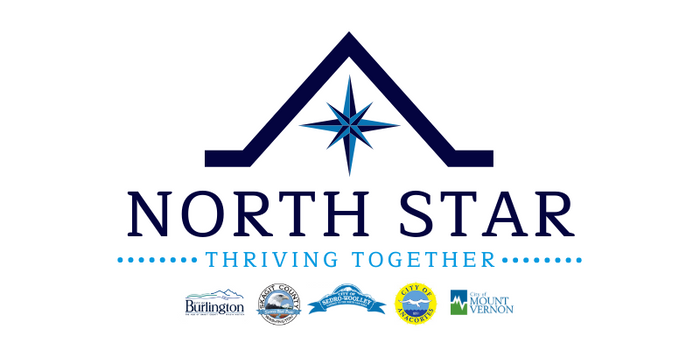 In early 2022, Skagit County launched the North Star Project, a joint effort between Skagit County and the cities of Burlington, Mount Vernon, Anacortes, and Sedro-Woolley to better align resources and services to address the complex behavioral health and homelessness challenges in our community.

More and more services and resources are being utilized to support a growing population of individuals suffering, with little to no lasting improvement in their long-term well-being and ability to thrive. Our city mayors and county commissioners have taken a stance because our community's chronic homelessness and chronic health problems are unacceptable. Waiting for a state or federal solution will not work – it is a community issue that requires a community response. People are suffering, and we must act now.

Phase 1 (2022) – Established of a robust Leadership Team and Advisory Group Charter, mapped out current resources, gaps, and opportunities, developed our Guiding Principles and an overarching framework built around the Vital Conditions.

Phase 2 (2023 and beyond) – Implementation phase; currently underway!

The following principles will guide North Star project efforts. These Guiding Principles will remain consistent despite changes to our goals, strategies, work, or governance.

Our Guiding Principles include:

Integrated & Coordinated System
Vital Conditions Framework
Focus on Root Causes
Sustainable Funding
Robust Workforce
Collaboration over Independence
Recovery-Oriented System of Care
Prioritized Population

The Vital Conditions Framework is foundational to the development of our strategies and goals and success of the North Star project. This framework is centered around the factors that all people depend on to reach their full potential, including:

Belonging & Civic Muscle - Healthy, fulfilling relationships and strong social supports provide a foundation for individuals and families to thrive.
Thriving Natural World – Healthy, clean environments free from environmental hazards are necessary for community and individual well-being.
Basic Needs for Health & Safety – Physical and mental well-being starts with access to fresh air and water, nutritious food, and a stable home.
Humane Housing – Stable, safe, disaster-resilient housing in diverse, vibrant communities fosters full, productive lives for individuals and families.
Meaning Work & Wealth – Fulfilling jobs that pay a living wage and facilitate economic mobility contribute to healthy, secure lives.
Lifelong Learning – Dynamic learning opportunities increase literacy, knowledge, skills, and insight that help people thrive across the lifespan.
Reliable Transportation – Accessible, reliable, and safe transportation connects people to health care, work, learning, social activities, and civic engagement opportunities.
Our strategies and goals must ensure that these seven conditions are addressed for the North Star Project to create lasting and transformational change in Skagit County. *Source
Implementation is currently underway! Our Leadership and Advisory teams are actively working on the following action items:

Mobilizing a Care Management Task Force to better serve those who are chronically homeless and who suffer from a disabling condition, including substance use disorder, serious mental illness, complex medical problems or severe trauma.
Launching a care management software platform to improve data sharing and efficiency among service partners. This will be achieved through convening an information network team.
Developing a robust Action Plan to address the needs of those suffering from substance use disorder and mental health issues in our community.
Developing a shared Housing Agenda to increase the supply, quality, and diversity of housing.
Implementing a Shared Funding Framework across jurisdictions that aligns with the North Star framework, priorities, and target population.
Ensuring solutions are data driven by using research-based frameworks, models, and practices.
Integrating Community Voice throughout the process to ensure that goals and strategies are in alignment with the true needs of our community.
Want to stay up to date on the North Star Project? SUBSCRIBE to receive email updates.

For additional information:
Keith Higman, Director
Skagit County Public Health
khigman@co.skagit.wa.us
(360) 416-1500
Related documents:
Press Releases:

May 19, 2023
Skagit County Releases Point-in-Time Count of People Experiencing Homelessness in 2023
Led by Community Action of Skagit County in partnership with Skagit County Public Health, many community partners, and dozens of volunteers.
April 26, 2023
70 New Homes for Our Most Vulnerable Neighbors: Martha's Place Opens Its Doors
Catholic Housing Services of Western Washington, the City of Mount Vernon, and Skagit County are excited to announce the grand opening of Martha's Place located at 1925 E. College Way in Mount Vernon.
March 16, 2023
Funding Secured for Upcoming Shortfall Faced by Skagit First Step Center
Leaders embraced the challenge to meet the needs of community members experiencing homelessness.
January 12, 2023
Skagit County North Star Project Moves into Phase 2
Project updates and plans for Phase 2.

July 26, 2022
Skagit County North Star Project Call to Action Signed by Local Elected Officials
A multi-phased whole-of government effort to address behavioral health and homelessness in Skagit County
April 26, 2022

April 26, 2022
Skagit County Launches North Star Project to Address Behavioral Health and Homelessness
Skagit County has recently launched the North Star Project, a multi-phased whole-of-government effort to address behavioral health and homelessness challenges in our community.